Sometimes people want to do nothing on holiday. Just relax and soak up rays of the sun. Then there are those, who strive for adventure.  They are addicted to the rush that comes from performing an action out of their routine.
Many medical experts insist an adrenaline rush increases strength and that explains the popularity of adventure sports. The good news for anyone seeking excitement is that Turkey is a center of excellence for adventure holidays.
The Best Adventure Sports in Turkey
The small and typically Mediterranean resort of Kas will provide an action packed week. This town offers every type of sport and has become known as the center of adventures holidays in Turkey.  Take to the skies and paraglide off a mountain then head under water to discover secrets of the deep while scuba diving.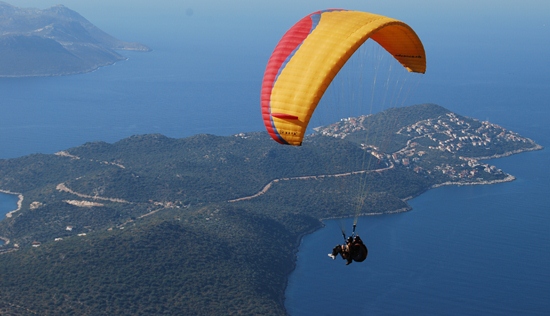 Spend two days sea kayaking over the sunken ruins of Kekova and canyon climbing in the mountains.  If you still have energy left, we recommend mountain biking in the hills, through small villages to see the traditional face of Turkey. Kas is known for adventure sports but whitewater rafting is popular in the cosmopolitan region of Antalya.
The Koprulu canyon satisfies the most hard core of adrenaline junkies. Boat sizes range from four to twelve people including an experienced guide. The length of the river is 11km of water rushing down from the Taurus Mountains. After a safety briefing, kit up with helmets and life jackets and prepare for a thrilling ride downstream.
Skiing in Turkey
Many people do not mention Turkey when talking about skiing resorts because it is associated with sandy beaches and ancient ruins. Turkey does have good ski resorts though and during the winter season (November to March) they are busy with holidaymakers of all nationalities.
If skiing does not get your attention, there is also the choice to snowboard. The Uludag Mountain in Bursa is one of the top ski centers in the country or head to Mount Erciyes in the Cappadocia region. Most ski centers also have luxury hotels so after an enjoyable day speeding down the ski slopes; you can relax at the spa or indulge in fine Turkish cuisine.
Jeep Safaris
Jeep safaris are popular in all the coastal holiday resorts. Most are family friendly so it is an excursion that will not frighten the kids. Leaving daily, they drive on mountain roads to explore small villages and secluded beaches. Lunch is often a BBQ followed by a swim. The Jeep safaris sold as excursions include a driver but independent travelers can hire a Jeep instead.
Windsurfing in Alacati
The resort of Alacati on the Izmir peninsula is the best destination in Turkey for wind and kite surfing. Excellent wind and water conditions make surfing conditions perfect and this is highlighted annually by the Alacati windsurfing festival. The best months are from April to October and Alacati is not only for experienced surfers either because plenty of schools line the coastal roads.
Trekking in Turkey
A slower pace of adventure sport is trekking the Lycian way. This is a long pathway stretching from the resort of Antalya to the town of Fethiye. It covers 500km and you can employ a guide to walk with you but if funds are low, opt for a self-guided tour because the route has been officially marked out.
Turkey's second long-distance trek is the route of St Paul. Starting on the outskirts of Antalya and heading inland, it takes in the scenic destinations of Barla and Kasimlar. The route takes walkers through canyons, across valleys and rivers. Along the way, they met traditional Turks and nomadic shepherds. This route is away from the typical tourist resorts and is ideal for seeing the traditional side of Turkey.
Contact us to arrange adventure sports in Turkey
(Image credit – Ski photo taken from Flickr. Please see photo for credit)