Many famous leaders in history are remembered for their speeches and not just their accomplishments. These include Martin Luthor King whose speech "I have a dream" was seen as a turning point in the struggle for equality of black Americans.
Winston Churchill was steadfast in the determination of his soldiers and told them "We will fight on the beaches"  and of course, Julius Caesar shouted the famous sentence "Veni, Vidi, Vici" which translates into "I came, I saw, I conquered".
When thinking about Turkish history, the most widely spoken about man is Mustafa Kemal Ataturk who is known for leading the Turkish war of independence, which led to the formation of the Republic of Turkey in 1923.
Ataturk's Speech about Gallipoli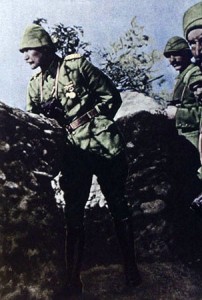 He made many speeches throughout his life however; one is more famous than the others are.
The heartfelt tribute stems from the battle of Gallipoli that started on 25 April 1915. This battle lasted for eight long months.
Foreign forces were attempting to capture an area now known as Anzac cove in an effort to pave the way to capturing Constantinople. They failed and thousands of men from both sides lost their lives.
It was an ugly battle resulting in the death of husbands, fathers, sons, and brothers.
In 1934, Mustafa Kemal Ataturk wrote the famous words that reached out to the mothers of his former enemies.
"Those heroes that shed their blood
And lost their lives.
You are now lying in the soil of a friendly country.
Therefore, rest in peace.
There is no difference between the Johnnies
And the Mehmets to us where they lie side by side
Here in this country of ours,
You, the mothers,
Who sent their sons from far away countries
Wipe away your tears,
Your sons are now lying in our bosom
And are in peace
After having lost their lives on this land they have
Become our sons as well".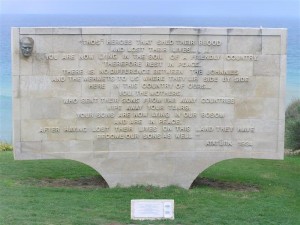 Anzac day at Gallipoli
Every year on the 25th of April, Turks, Australians, and New Zealanders gather for a special dawn service to commemorate that day in history.
Most people attending are third or fourth generation descendants from the men that fought at the battle of Gallipoli.
They honour their ancestors and the sacrifices made for their countries in a time of great turmoil and destruction. In later years, the event has also become more widely associated with any occasion in war history that has caused people to lose their lives.
  Gallipoli and Anzac Tours
Anzac Day is a national day of remembrance to honour soldiers  who fought at Gallipoli in Turkey during World War I. Throughout the year, the site is open to visitors. Learn more..