Turkey has many historical ruins, site-seeing places and of course, local attractions, however there is nothing quite as idyllic as a Blue Cruise tour. Boarding a traditional Turkish gulet boat, passengers spend their days sailing the coastline, exploring small villages, witnessing scenic landscapes, snorkelling and basically relaxing in style.
Also known as Blue Voyage routes, areas that Blue Cruises sail throughout are the Aegean and Mediterranean coastlines. Nicknamed the Turquoise Coast or Turkish Riviera, it runs from the North Aegean near Istanbul to the bustling region of Antalya.
Blue Cruise Routes in Turkey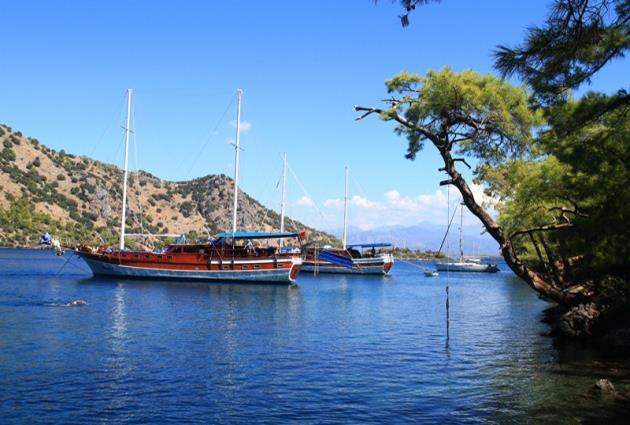 Within the Turkish Riviera, are set Blue Cruise routes, lasting from 3 to 8 days. Some of them also visit Greek Islands nearby and most traditionally set off from one of the three main regions for blue cruises in Turkey; Fethiye, Marmaris or Bodrum. The concept is really about a life at sea. One of the most popular routes is the 3 night to 4 day route from Fethiye to Olympus.
Fethiye to Olympus
During the journey, the gulet cruise stops at various places of attraction including Butterfly Valley, a hippy inspired community living within a large gorge. Gemiler Island is also called Saint Nicholas Island and it boasts of church ruins and Byzantine city walls. Headed further West, passengers can explore the small, traditional village of Kas, spot Caretta Caretta turtles in Simena or cruise past the ruins of the sunken city at Kekova. The possibilities are endless!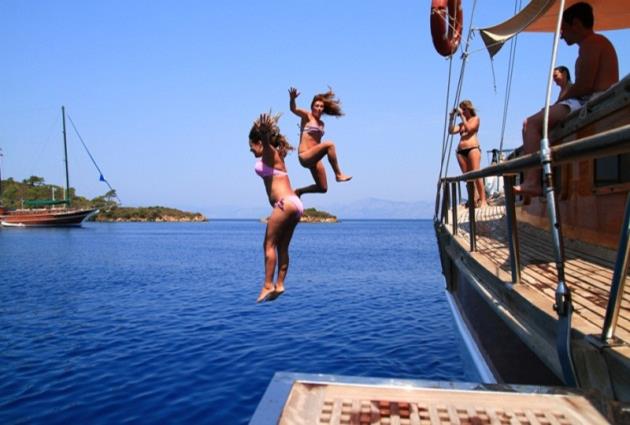 Charter Cabin or Private Luxury
Most passengers opt for a charter cabin cruise with crew. This is a good way to reduce costs and meet new friends. Many solo travellers chose this option but alternatively, passengers can privately rent a gulet boat and crew. This is cost effective if there is a large family or group of friends that want to restrict their company to within themselves.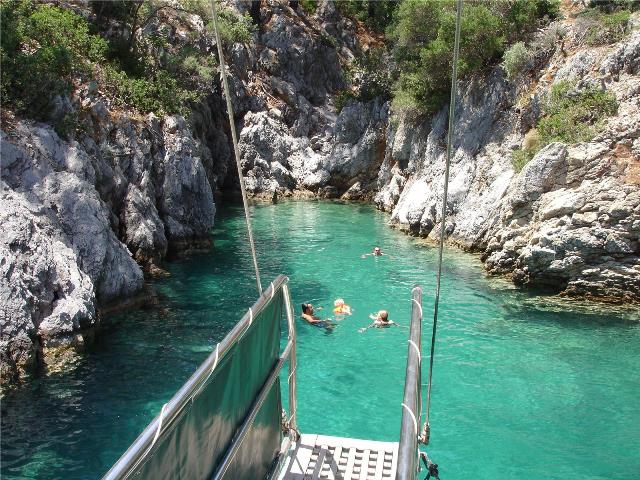 The Crew On-board
An average crew consists of the captain, who drives the boat and plots the course while keeping an eye on weather and wind conditions. He will have his deckhands which can be three or four people depending on the size of the boat. There is also the cook, who prepares breakfast, lunch and dinner that is all served on deck. Occasionally he goes fishing and catches are placed right-away on the BBQ and served fresh!
How Much Do Blue Cruises Cost?
The price varies on the route, number of days and the type of service you want. An example is the Marmaris-Fethiye 4 day mini cruise which starts in price from just 210 Euros. Alternatively, you can cruise the Gulf of Hisaronu over an 8 day period from just 630 euros. Attractions to see on this route include the villages of Orhaniye and Selimeye, as well as the ancient ruins of Knidos and Metoer Bay with its underwater caves.
Find out more about our Blue cruises in Turkey here.