The swirling winds of the Cappadocian plateaus have been around as long as the legends of early Christians seeking relief in the underground cities that dot the fairy chimney landscape.
 An eye to the sky will see a tourist phenomena, the multi-coloured balloons that straddle the horizon as they oversee ancient Cappadocia like its puffed-up emperors of old.
But one hoofed legend that still endures on the ground to this day and is even helping to bring tourists up close and personal with the Cappadocian landscape at eye level is the region's beautiful horses.
Cappadocia owes its very survival to the namesake that still pummels the ground to this day. Derived from the Hittite word "Katpatuka," it is commonly held to mean "Land of Beautiful Horses".
And today's horses are probably the best natural guides to lead you through the canyons and legends which linger like the mists of time.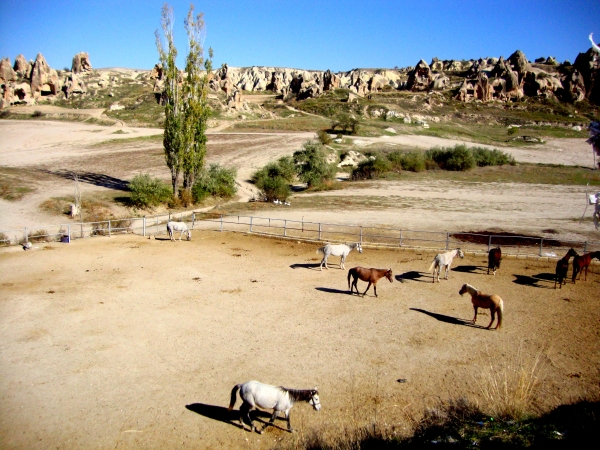 Cappadocia Horse Riding Tours
 The region is closely connected to the equine, with historic finds describing in imagery how its peoples tendered their horses and formed the bedrock of its international reputation.
Fortunately the horses of modern-day Cappadocia have found new peaceful endeavours to aid the tourism boom, but the forefathers were noted for their speed, skill and sure footedness on the battlefield.
Horse breeders were held in high regard and equally sought after by emperors and kings for their equine stock. As their cult following grew, the horses were used as gifts or 'money' to meet tax debts, such were their worth.
One conquering king declined the hand of a royal's daughter in exchange for a 1,000 horses to add to his war machine.
History also records that when Alexander fought the Persians in the battle at Granicus, Cappadocian horsemen were among his troop.
Horses have formed the backbone of the Cappadocian economy throughout its history and the ebb and flow of empires from the Persians who used them as currency to the Romans who exported them back for chariot racing.
Ottomans created stud farms to ensure that only the best steeds were available for their cavalries.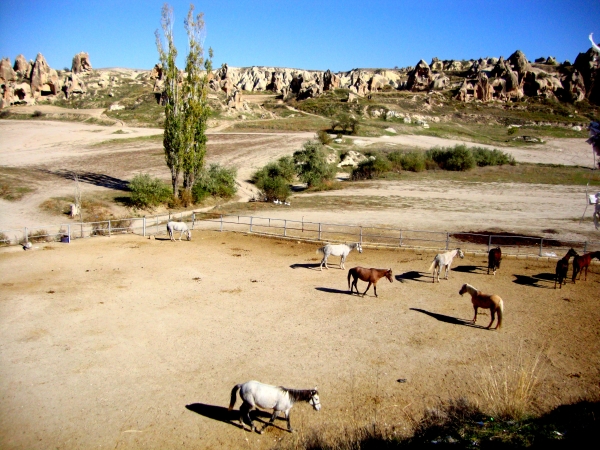 Why they came to be an enduring image of Cappadocia have been lost in times gone by but today they offer a popular diversion for tourists to go horseback riding, thanks to the mushrooming of ranches in the region
They can get into areas that a tour bus can't and the landscape is just ideal for horseback riding or horse safaris, particularly the rocky terrain and endless ravines.
Riding a Cappadocian horse through the very heart of legends is a must for reliving the land of beautiful horses and taking home the memories of the feel, touch, smell and sight of the Cappadocian range.
See the full range of Cappadocia Tours