On Turkey's Aegean Coast, near the popular coastal resort of Kusadasi, sits the Ephesus ancient city ruins, a marvellous testament to extensive work of historians and archaeologists over many centuries.
It portrays magnificence, leaves people speechless and shows evidence of forwarding thinking, intelligence, and the Roman Empire's confidence. Indeed, Ephesus should be on everyone's bucket list when they visit Turkey.
As visitors walk around the excavated and reconstructed structures; it is easy to connect the dots. The ancient ruins of Ephesus portray how Romans lived their lives, from the water aqueducts, terraced houses, and public latrines, used by wealthy and influential citizens of society.
Visiting Ephesus Ancient City Ruins
The Biblical Significance of Ephesus
The ancient city of Ephesus is a favourite destination of tourists visiting Turkey because of its breath-taking ruins and significant historical and religious significance. Roman rule contributed towards Ephesus's fame and significance, but a turning point was when the local council persecuted many citizens turning to the new religion. Hence, they met in secret. Biblical characters like Paul, John, and the Virgin Mary also visited the city.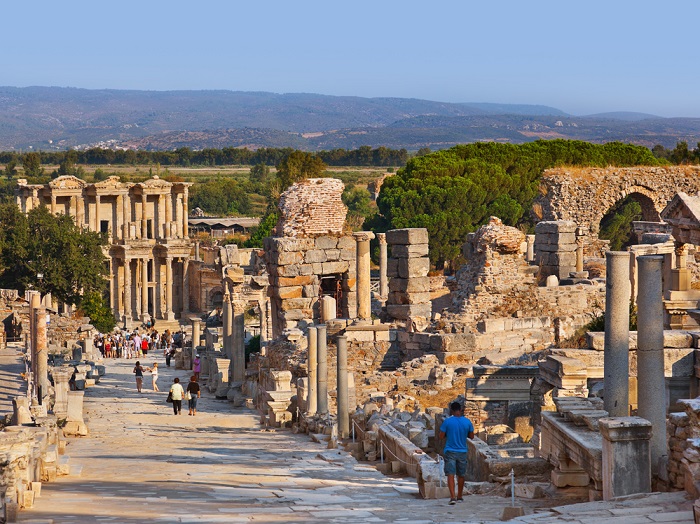 Many historians believe Saint John wrote his Gospel while in Ephesus, and when the Virgin Mary was dying, he took her to the green hills of Selcuk, above Ephesus and laid her to rest. Although unverified, the Roman Catholic Church watches over her shrine, receiving hundreds of visitors daily.
Ephesus was also one of seven revelation churches, as mentioned in the Bible's New Testament, which stated that it had forgotten its first love. It is also a Roman era glory containing extensive collections of ruins including the Tomb of St. John, Gate of Augustus, Hadrian Temple, and Pyrtaneion.
Grand Theatre of Ancient Ephesus
The most breath-taking piece of architecture in Ephesus is the Great Theatre. Erected on the slope of Mt. Pion, towering over the city at 100 feet with a capacity of a massive 25,000 people, the Apostle Paul used it to preach the Gospel to Ephesians and condemn pagan worship.
It was also the venue for political, religious, and philosophical discussions, gladiator fights, plays and concerts. Its most famous event though was the Artemis riots that took place there. In Christianity's early days, many people that had not converted were still worshipping gods of which one was Artemis, goddess of fertility.
Demetrius was a silversmith who sold Artemis figures, but because of Saint Paul's preaching, his sales were diminishing. He incited a crowd who gathered in the theatre demanding recognition of Artemis.
Saint Paul's friends begged him to go away from the congregation since they were in no mood to listen, but an intelligent city clerk calmed them down and urged them to follow the law by protesting to the courts.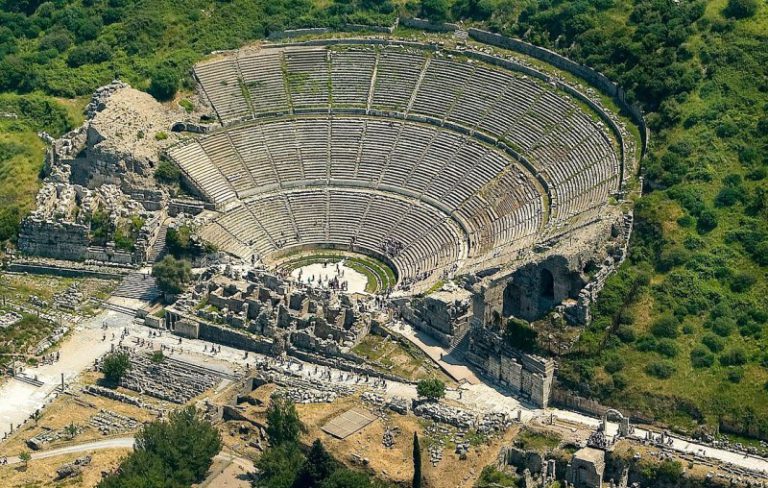 The main Marble Street is more than just a road leading from the Great Theatre to the Celsius Library. Filled with interesting archaeological artefacts including a brothel advertisement and engraved letters of emperors and busts of famous people in history, Marble Street traces its origins to the 1st century although it was open only to pedestrians until the 5th century when paved with marble blocks so both pedestrians and carriages could use it.
Roman Terrace Houses at Ephesus
Although the ancient ruins of Ephesus have many historical landmarks to boast about, a highlighted and most celebrated of recent years is the Roman terrace houses. Sitting on the Bulbul Mountain slope, they belonged to wealthy citizens who used slaves to clean and maintain their immaculate homes. The interior floor and wall mosaics are why they have taken centre stage, and they are marvellous artefacts depicting how rich people lived.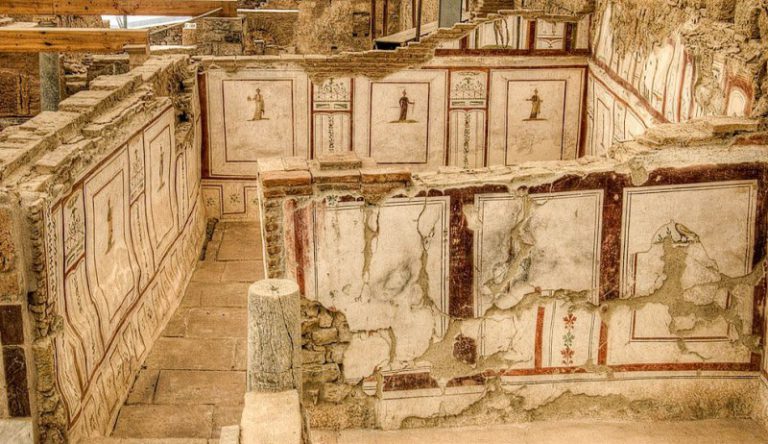 The Ancient Celsius Library
Sitting at the end of the main street, the majestic Celsius library was one of three sizeable ancient world libraries. Holding 12,000 scrolls, it was a pinnacle point in the social life of philosophers and creative artisans.
Built-to honour the Roman senator of the same name, his tomb was underneath. It is because of extensive restoration work that took place for eight years in the 70s that we can see the library's front facade because a 3rd-century earthquake demolished it.

Seeing the Celsius library portrays how important wisdom was to Romans, prompting them to store information in public buildings all over their empire. So necessary was knowledge to them that the architecture and foundation were well planned out.
Ephesus City's State Agora
The 4th-century state agora built under the rule of Alexander the Great was a business capital where state heads converged to discuss business matters. The ruins that stand now are not the original structure but remains of the restored Agora under the efforts of Faustina, the wife of Marcus Aurelius.
Although used for commerce and trade, they found a terra cotta sarcophagus on-site, suggesting that a necropolis existed in the 7th and 6th centuries BC. Aside from a necropolis, a discovered water reservoir supplied water to Ephesus.
Artemis Temple near Ephesus
The 7th century BC Artemis Temple of Artemis, built under King Croesus of Lydia's reign was a place of worship to Artemis, the Greek goddess of hunt and wilderness, who was also the twin of Apollo.
Except for its roof, the marble temple succeeded the Parthenon's grandiosity. It was a sanctuary for beautiful pieces of art, much of those were sculptures by the famous Greek artists Kresilas, Phidias and Polyclitus.
The wealthy citizens of Ephesus also donated extravagant pieces of jewellery, silver, and gold to adorn the temple but in 356 BC, a young man named Herostratus, who wanted to gain infamy burned down the magnificent building.
The British Museum now holds fragments and remains found in the early 1900s. Philo of Byzantium, a 3rd-century Greek engineer and writer, wrote….
"I have seen the walls and Hanging Gardens of ancient Babylon, the statue of Olympian Zeus, the Colossus of Rhodes, the mighty work of the high Pyramids and the tomb of Mausolus. However, when I saw the temple at Ephesus rising to the clouds, all these other wonders were put in the shade."
The Virgin Mary's House
Devoted Christians should visit the Virgin Mary house, believed to have been her last home before she ascended. Records say Mary was delegated to Saint John the Baptist's care by Jesus Christ after his resurrection, and John brought Mary to Ephesus where he also planned to spread the teachings of Christ.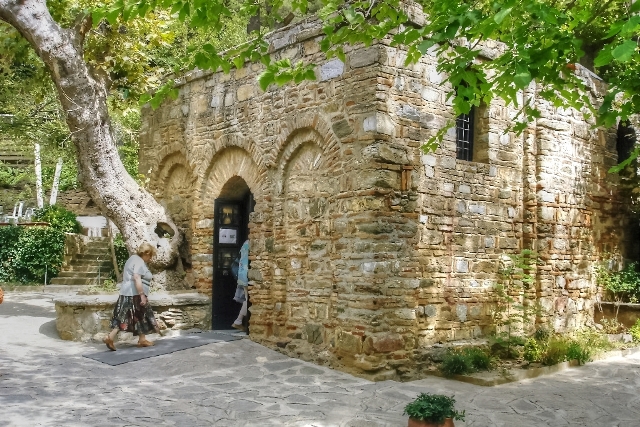 The House of Virgin Mary is a humble example of Roman architecture, made from stones. Christian and Muslim pilgrims and tourists visit the House of Virgin Mary to pay tribute, offer prayers and drink from the miraculous springs nearby. You can combine a visit with tours to Ephesus or nearby Selcuk, which also holds such sites like Saint John's basilica.
Other Ancient Ruins in Aegean Turkey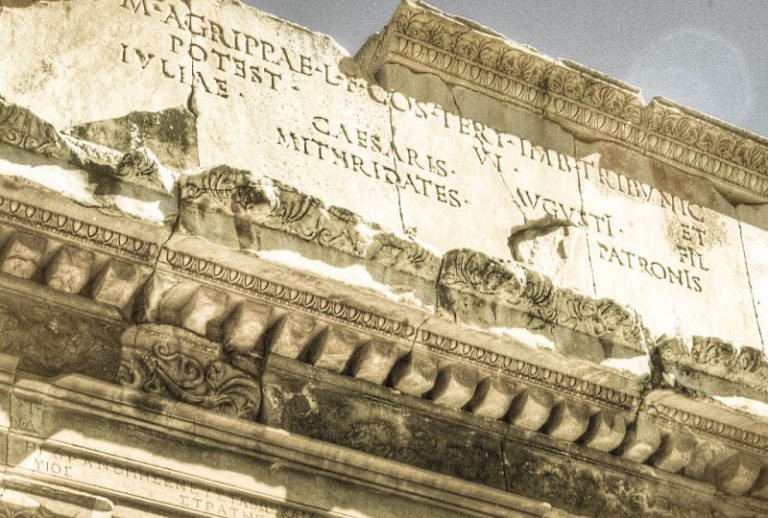 Priene, Miletus and Didyma: Allow yourself a full day to tour the stunning archaeological sites of Priene, Miletus and Didyma, which are only short distances from one another. Priene traces its history back to 2000 BC and includes restored buildings such as Priene theatre and agora, Temenos of Egyptian Gods, Athena Temple, and Temenos of Zeus Olympios.
Twenty-two kilometres from Priene, you'll reach Miletus and find the Theater of Miletus, Seljuk Caravanserai, Temple of Serapis, Faustina II's baths, Martyrion and the Bishop's Church. Near Miletus is Didyma, which was the place of conception of Zeus and Leto's twins, Apollo, and Artemis. Here you shall find the Temple of Apollo, an essential fixture in Turkey's ancient history.
Sardis: The unknown capital of ancient Lydia, called Sardis is 60 miles east of Izmir and reached within an hour, making it an ideal day time trip from any surrounding areas.
Pergamon: This ancient city belongs to Turkey's top 100 historical sites of Turkey and the UNESCO World Heritage list. Its most remarkable monuments and buildings date as far back as 197-159 BC and include the Hellenistic theatre, the Trajaneum (Sanctuary of Trajan), and Athenium (the Library).
See More Sites in Turkey: Our tours visit Ephesus Ancient City Ruins and other significant sites like Cappadocia, Pamukkale, Gallipoli and Istanbul. Including transport, guides, food, hotels and much more, they are an enjoyable way to explore the delights of this country.