Many places in Turkey are credited for a specific culinary delight. The region of Kars in the east excels at cheese production while the humble town of Soke on the Aegean coast is well known for its roadside restaurants serving Cop-Sis kebabs.
However, perhaps the province of Gaziantep in Southeast Turkey garners the most fame. It has a worldwide reputation for delicious baklava expertly made with a generous filling of the simple pistachio nut. Gaziantep is the number one region of Turkey for pistachio production but it is not about quantity. Indeed the fame comes purely from the quality.
Pistachio Nuts from Gaziantep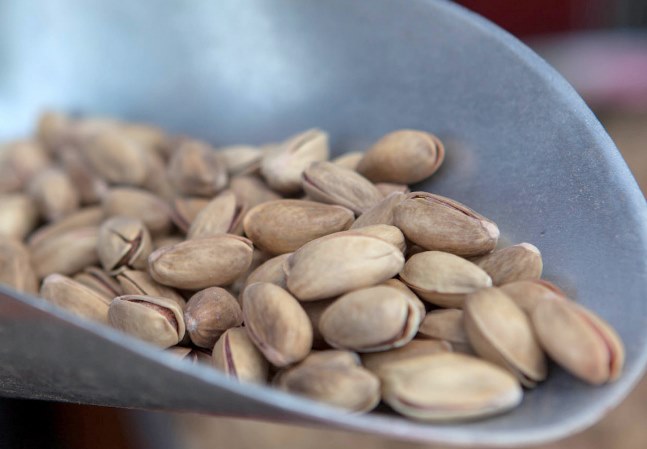 Pistachio nut trees in Gaziantep flourish because of the ideal climate and excellent condition of soil. Local farmers generally pick the pistachio nuts in September but if they are to be used for baklava, harvesting is bought forward by one month because the fat content is lower and the protein count is high.
Taste pistachios from anywhere else in Turkey or even the world, and you will instantly be able to spot the difference in quality. The flavour of Gaziantep pistachios is more intense and there is no need for artificial colourings or additives to enhance the lasting taste.
Many people assume the bright green colour of the inside flesh is food colouring but any creditable pistachio nut farmer from Gaziantep will view this as an insult because they have pride in assuring that the quality is maintained throughout generations. This pride is also displayed at the annual pistachio festival of Gaziantep that occurs every year in October.
Throughout shops in Turkey, as rows of bags of peanuts sit on shelves, customers will look for Gaziantep pistachios despite the fact that they are more expensive and in an effort to promote green living, pistachios nut shells from Gaziantep have also been put to the test to see if they can fuel a city with energy. Probably thanks to the huge consumption of them by locals, there is a mass amount of shells to use.
In 2013, the most controversial story about the pistachio nut scene of Gaziantep emerged. Famous baklava makers in Istanbul were extremely concerned the pistachios nuts they were purchasing to make baklava had become tainted with black market pistachios from Syria that do not have the same vibrant colour or intense taste.
The lesson to be learned: Never try and fool an expert baklava maker with fake pistachio nuts!