Goreme Open Air Museum, the top attraction of Cappadocia in Turkey's central Anatolian region is a massive collection of historical monasteries and cave churches displaying fine specimens of ancient Byzantine frescoes.
Within the region, over 600 churches made from soft rock dot the Cappadocia landscape, and there may well be much more undiscovered, but Goreme museum brings in visitors from near and far, who are eager to see traces of early Christianity.
Goreme Open Air Museum History
Thousands of years ago, nearby Mount Erciyes volcano erupted. Ash and lava fell across the landscape and hardened to form tufa rock. Over centuries to come, wind erosion slowly moulded fairy chimneys that we see today.However, it didn't take centuries for locals to realise they could carve into rocks and soon turned them into houses and churches.
From then on, Cappadocia offered sanctuary to early Christians who decorated them with art and symbols. The churches also flourished under the guise of Saint Basil of Caesarea, one of three renowned Cappadocian Fathers who advanced early Christian theology.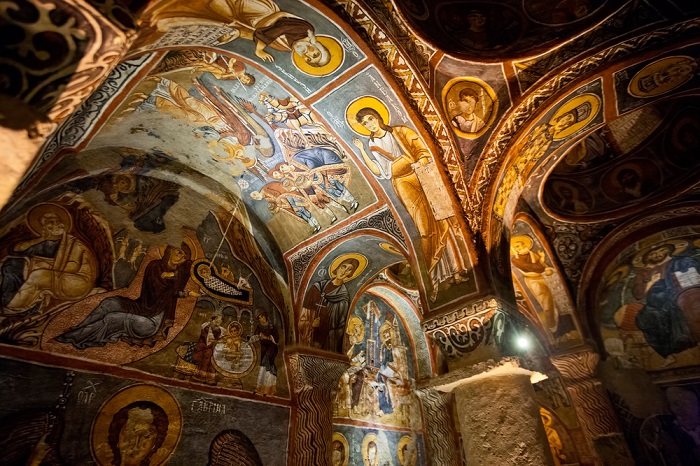 The 4th-century sanctuaries include many examples of Byzantine art, but later structures offer richer frescoes and images. Adorning walls and ceilings, they portray Biblical scenes, and their primary purpose was to help followers who couldn't read or write.
Unfortunately, when the Ottoman rule came to Cappadocia, locals used the caves as pigeon sheds, because they were not aware of their historical importance. It took many historians many years to clean and restore the frescoes to return them to their original condition. As a member of the UNESCO World Heritage list since 1984, most date from the 9th to 12th centuries.
Well Known Churches within Goreme Open Museum
Tokali: Church of the Buckle: Containing 9th-century frescoes depicting the 12 apostles and life of Jesus, Tokali is the largest out of them all. It houses four chambers with one highlighting New Testament scenes, and the life and times of St Basil.
Elmali: Apple Church: Built in approximately 1050, the equally important Apple structure has a Greek cross carved into pillars that support the central dome and depicts among many Biblical scenes, the Last Supper.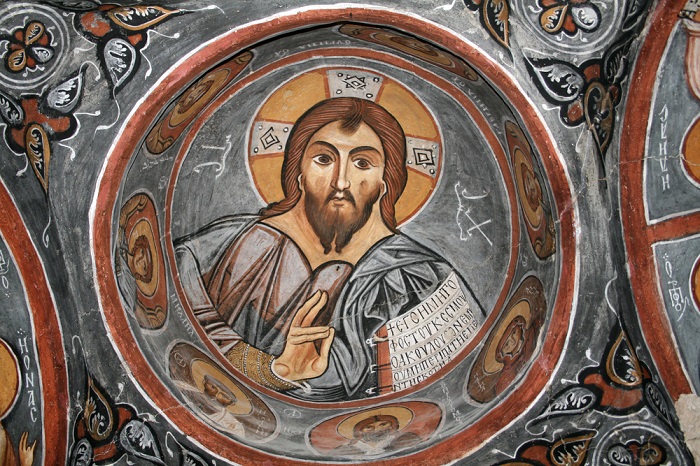 Chapel of St. Barbara: The 11th century Barbara Church is in honour of a martyr called Barbara who was killed by her father for practising Christianity.
Yilanli: Snake Church: Aptly named because of a fresco displaying George killing the dragon, this church has a low ceiling and a long nave.
Carikli: Sandals Church: The name comes from two footprints at the bottom of the Ascension fresco at the entrance. The wall frescoes depict a series of nativity themes, the Crucifixion, the Baptism, and the Magi Adoration.
Nice to Know: The Cappadocian Fathers
Cappadocia, a captivating moonscape packed with mystical stories, underground cities and of lost tribes, is also a hub of early Christianity, hence the importance of Goreme museum. Likewise, the so-called Cappadocian Fathers are widely regarded as advancing Christian theology, and so cementing their places in history.
Who were they?
Basil the Great who was later called Bishop of Caesarea
Bishop of Nyssa known as Gregory of Nyssa
Gregory of Nazianzus who later became Patriarch of Constantinople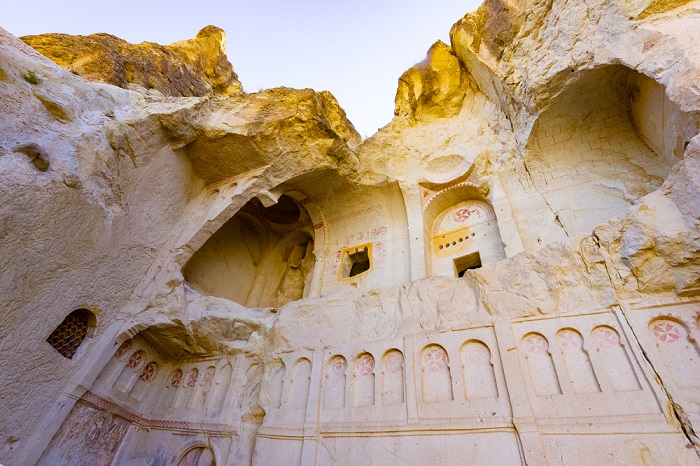 The Fathers, widely regarded as saints in Western and Eastern Christian worlds, were philosophers and thinkers ahead of their day. In the early 4th Century AD, there were three divergent lines of thinking in early Christianity about the origins of God and his son, Jesus: they were the Origenists, Nicenes and the Arians.
Following Christian Emperor Constantine's death in 325AD, opposing views held court for years, until the Fathers unified the Origenists and Nicenes.
They were credited with helping everyone to unify under the Nicenes Faith and forwarding what is now understood today as the Holy Trinity – explicitly acknowledging a distinction between the Father, Son, and Holy Spirit. The Fathers' contribution to the debate at this point was a unifying force across the empire.
While the Fathers shared many traits, each one had their strengths. Basil was a man of action, Gregory of Nazianzus, an orator and Gregory of Nyssa, a thinker.
Their teachings also proved timely. As the Origenists and Nicenes united behind one banner of thinking, a new Emperor with Nicenes convictions took over the Eastern empire. Summoning heads of various Christian faiths saw the embodiment and following of the Nicenes path. This led to the eventual dismantling of the Arian audience – but it could not have been done without the Fathers.
Their works contributed and stood alongside great intellectuals like Aristotle and Plato, in identifying the healing of the soul of man and his union with God at its centre.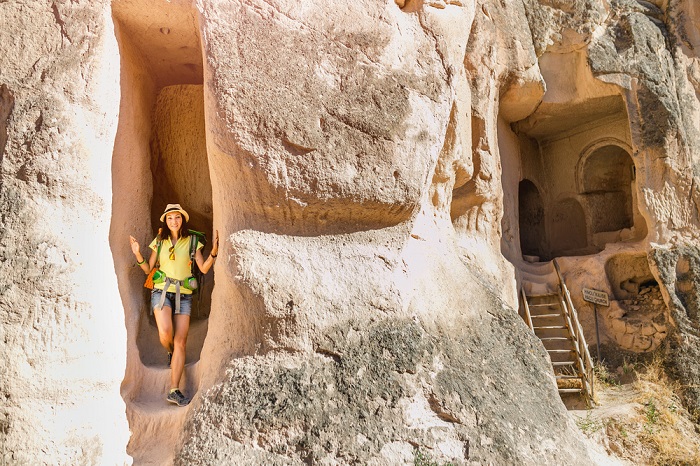 Tips for Visiting Goreme Museum
To enhance your experience of Goreme open air museum, a tour guide is your walking, talking history book and a fountain of knowledge.
Note: To preserve ancient frescoes, flash photography is forbidden.
More Cave Churches in Cappadocia: Some 30 kilometres away, the 16-kilometre Ihlara valley, a canyon formed by waters flowing from Hasan Dag volcano and the Melendiz mountains has 100 rock-carved churches. Reflecting Syrian and Turkish influences, with the best preserved being the Kokar and Purenliseki, there is also a church dedicated to St George with 13th-century frescoes.