When talking about Turkey's history, it is impossible to give a brief outline or snapshot of ruling empires, prominent civilisations and key events. The historical timeline is diverse, and laps over into other cultures. It is intricate and needs carefully explaining devoid of assumptions or generalisations. Turks, in general, are extremely proud of their history and anyone arriving to tour ancient sites, and historical ruins in Turkey always receives a warm welcome. Including Greek, Roman, Ottoman, Armenian, Hittite, and Kurdish landmarks, the country is a marvellous treasure chest of history.
Ancient Sites & Historical Ruins in Turkey
Ephesus City in Selcuk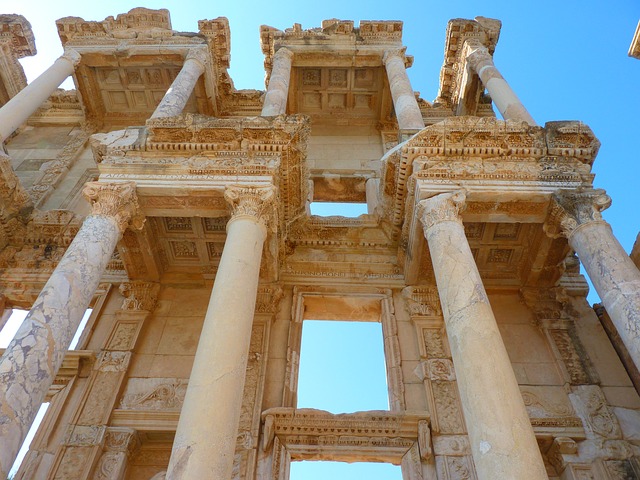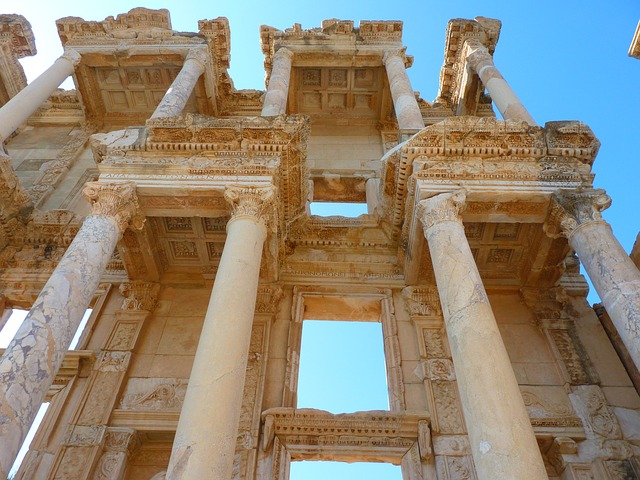 As the second most important city of the Roman Empire, Ephesus never fails to delight visitors. Landmarks to see include the old gladiator theatre, Celsius Library, Roman terrace houses, public latrines and Hadrian's temple. Sitting in Aegean Turkey, near Kusadasi, visitors should also see the Virgin Mary's house, believed to be the place of her assumption, and Basilica of Saint John in Selcuk, that holds his tomb. Read more about Ephesus here.
Historical Sites in Antalya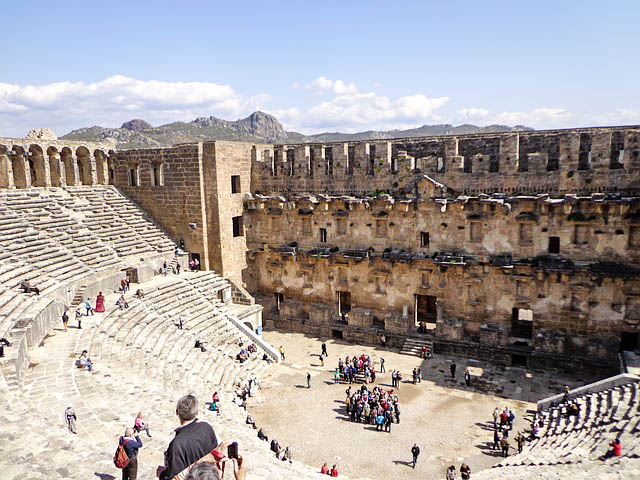 Antalya, the second most visited tourist destination in Turkey, does not disappoint with its vast wealth of ancient ruins to see. A good place to start is Kaleci, the old town in Antalya city centre that includes the famous Hadrian's Gate. Thousands of artefacts are on display in the impressive complex of Antalya Archaeological Museum but head to the coastal resort of Side.
This open-air museum includes a large theatre in the middle of town and the ancient Apollo Temple where Marc Anthony and Cleopatra had a secret meeting. Otherwise, on the outskirts, Phaselis, an old sea trading port sits in between two beautiful beaches making for a fun family day out. By far, though, Aspendos and its marvellously intact amphitheatre are the pride and glory of Antalya. Read more about historical sites in Antalya here.
Historical Ruins of the Lycian Way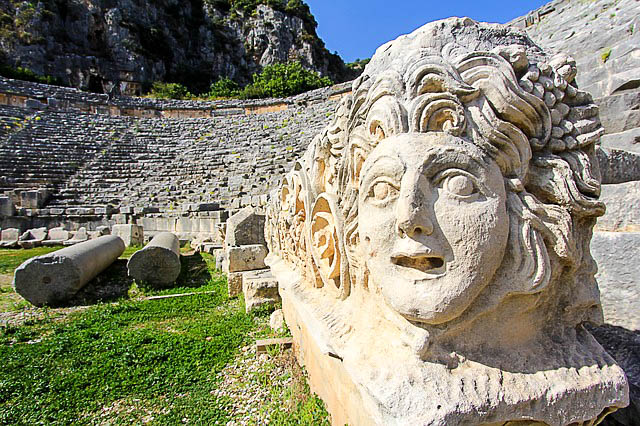 Any article about historical ruins in Turkey has to mention the Lycian way, a collection of ancient ruins scattered from Antalya to Fethiye on the Mediterranean coast. Xanthos and Letoon belong to the World UNESCO heritage site list while nearby Tlos does not receive much fame yet is worth visiting for its Lycian tombs overlooking the green plains. Urban legends say the other tomb in the hillside belonged to Bellerophon and his flying horse called Pegasus.
Further, along with the coastline on the outskirts of the Antalya district, is the theatre and Lycian rock tombs of Myra that is also close to Demre and the church of Saint Nicholas (Santa Claus.)The settings of Olympos in a dense, overgrown forest promote a surreal fairy-tale setting, because of the unknown sarcophagus of Captain Euromos. It would take two months of walking to see all the historical ruins of the Lycian way, or a unique way to travel is on a gulet cruise from Fethiye to Olympos.
Miletus, Priene, and Apollo Temple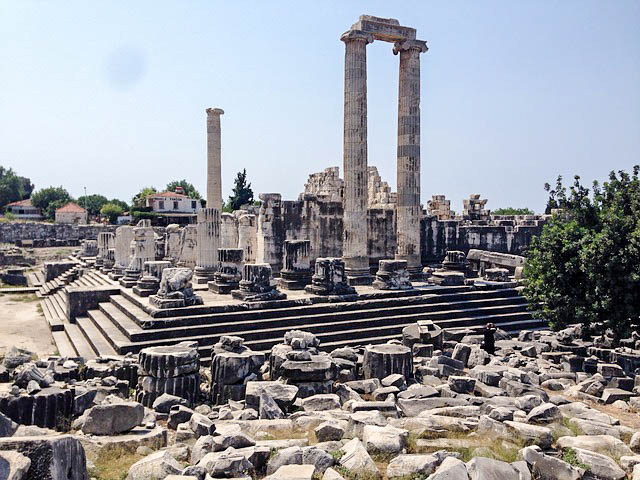 Miletus, Priene, and Apollo Temple are a golden triangle of historical ruins in Turkey because all sit within close proximity to each other. Both Miletus and Priene were prominent sea trading cities of the Ionian era. Priene has a deep connection to Alexander the Great who funded construction of its famous Athena Temple, while Miletus proudly boasts of its intact vomitorium in the ancient theatre. Common myths say it is where Roman spectators used to throw up however they were simply entrance and exits to the main section.
Citizens of Miletus also completed an annual pilgrimage to the pagan worshipping Apollo temple in Didim. End the day here for an atmospheric photo as the sunset sets. An ongoing development to watch out for is the promotion of the 16 kilometres Sacred Way, which was the path from Miletus to the Oracle of Didyma.
Hittite Hattusa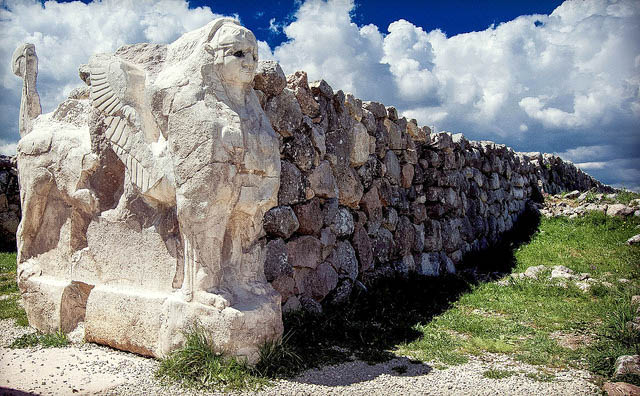 Possibly one of Turkey's most underrated ancient cities is the Hittite capital of Hattusa. Sitting in the relatively unknown district of Bogazkale, ongoing excavations have lasted for many years, but so much of the old city is still uncovered because it was massive and covered a vast landscape. Experts reconstructed a section of the old town walls and discovered the entrance to the ancient city called the Lion's Gate.
Further uphill, the sphinxes gate is named such because of giant sphinxes adorning the main entrance. These majestic statues created a political mess after Germany took them for restoration in the early 20th century. Many years later, Turkey demanded they return them, or they would cancel all excavation digs by Germany universities and organisations. They were promptly returned and these days, stand proudly inside the small Bogazkale museum.
The Forgotten City of Ani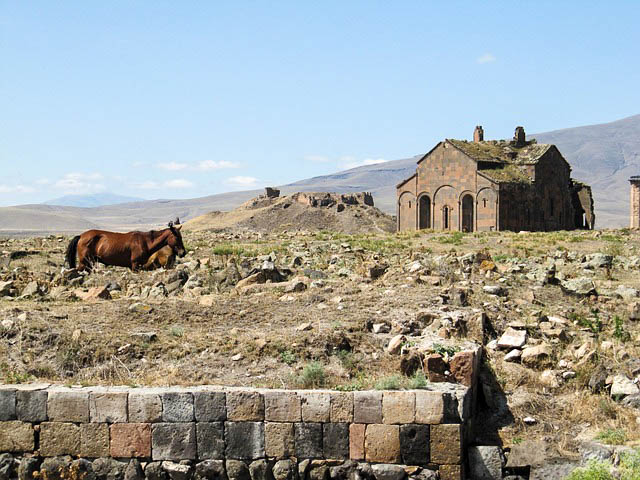 On the border with Armenian, Ani ghost city rarely receives visitors apart from an odd trickle who travel purposely to see it. Nicknamed the city of 1001 churches, beautiful historical landmarks like the Fethiye Cathedral and Tigran Hornet Church sit in a vast green landscape, with hardly anything else in sight. Previously, many historians campaigned for funds for further excavations. At the same time, they warned of collapse if nothing was done to secure their foundations. Hence, the UNESCO committee added it to their World Heritage list in 2016.
Gobeklitepe Temple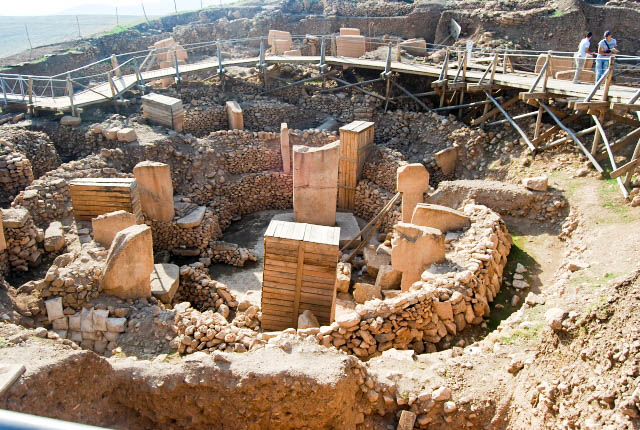 Only discovered in 1963, Gobeklitepe, in the Sanliurfa district of south-east Turkey was a late comer to the long list of historical ruins in Turkey, yet it is of great importance. Predating Stonehenge by roughly 6000 years, it is the oldest worshipping temple in the world. Once again, hardly anyone visits it because of its "off the beaten track" location, but hopefully, in years to come, its importance will lure in more visitors. Only a small percentage of Gobeklitepe has been uncovered and the next 50 years, could reveal some interesting historical surprises.
Goreme Open-Air Museum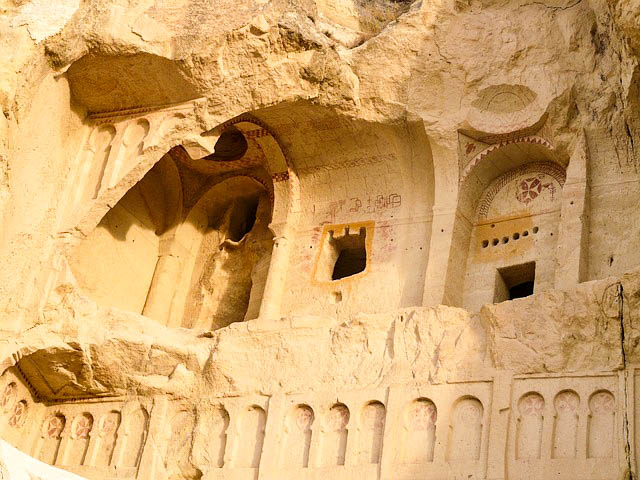 A splattering of ancient cave churches covers a small plateau in the Goreme district of central Anatolian Cappadocia. Cut into the rocks and famed for their vibrant ceiling frescoes, they date to the early days of Christianity. Goreme Open-Air Museum is another UNESCO World Heritage site and the number one destination for first-time visitors.
Further Reading: If you would like to see these landmarks and many more historical ruins in Turkey, our countrywide tours including transport, guide and accommodation will take you. Have a browse here of the delights of Turkey and how you can see it for yourself.
Save
Save