Hot Air Ballooning in Cappadocia is a must-do activity when visiting Turkey. A unique lunar landscape found no-where else in the world is dotted with cave houses and hotels among large rock formations. To explore the region on foot including green valleys, local towns and outdoor attractions would take months so holidaymakers and anyone with time constraints should see it from the air.
The region played an essential part at the beginning of Christianity as told in stories about the Cappadocia fathers. Visitors can also see this in Goreme Open Air Museum, a collection of ancient cave churches and monasteries.
Let us not forget about the many underground cities, built hundreds of years ago to protect local communities from invaders. Places like stone rock Selime monastery also defy belief and prove a true testament to what man can do when using natural resources for daily use. Indeed, many visitors compare it to the moon and it is a sight not to be missed.
About Cappadocia
In the seventies and eighties, Cappadocia was not a well-known destination on the international travel scene. Visited by independent backpackers, eager for adventure and excitement, it was not until the Internet, that the region became a hot topic.
If you have never been, it is easy to assume the descriptions sound like a page out of a fairy-tale storybook. Cave houses, fairy chimneys, underground cities, and extended deep gorges used by Christians fleeing Roman soldiers will sound surreal to anyone. However, everything about Cappadocia is very much real.
The cave hotels are not a man-made theme. Built into the natural geographical makeup, locals have carved homes out of rocks for centuries. Term the concept with professional hoteliers, who have lined their establishments with every amenity and you have the best accommodation in the world.
Hot Air Ballooning in Cappadocia
The balloons are the biggest attraction and proof is seen by waking up early in the morning to see over thirty of them floating across the horizon just as the sun rises. Listen to the rush of hot air flowing into the balloons and see miniature figures in the basket. The balloon trips are not for late risers, because all of them are in the air by sunrise.
After a short in-flight briefing, it is time to take off for a once in a lifetime experience. Be sure to have the camera or video recorder ready. A hot-air balloon is an excellent platform for viewing the volcanic formations. The balloon travels in existing air streams, so there is no motion, and it is possible to forget that your feet are off the ground.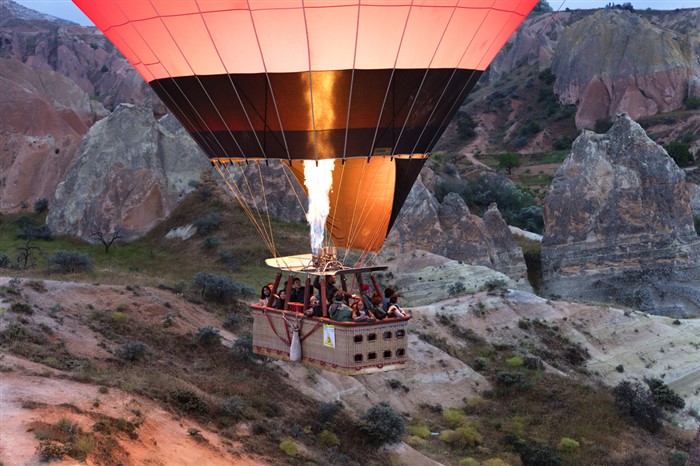 Hot air balloons invented in 1776 found a home in Cappadocia because wind streams flowing through valleys are perfect conditions in which to fly. Rising to around 1000 feet, pilots often descend and climb back up again, giving off a stunning panoramic view.
Float over pigeon valley and the Goreme open-air museum, head to see the castle of Uchisar from the sky and finish by floating over the cave hotels. There is no better way to celebrate your first hot-air balloon trip, than by indulging in a champagne toast upon landing.
Going to Cappadocia and not making a hot-air balloon trip is like going to Paris and bypassing the Eiffel tower. It is all about hot air balloons and making lifelong memories.
Cappadocia's Stunning Lunar Landscape
Cappadocia has many deep valleys and gorges formed by weather over thousands of years. Within those mystical plains are smooth and jugged rocks, nicknamed fairy chimneys because of their tall, domineering appearance.
In the distance, sits the majestic Mount Erciyes and from local landmarks such as Panoramic Viewpoint, the famous town of Goreme resembles a movie scene from the Flintstone. It is hard today to think the lunar landscape of Central Anatolia was a major point of trade, defence, political and religious influence.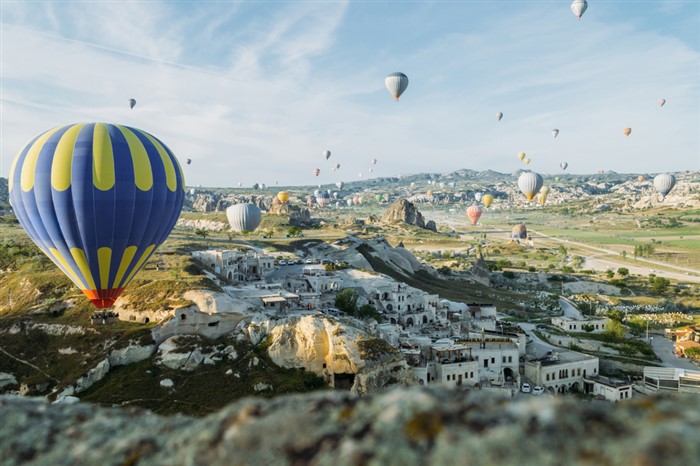 More so, while the Hittites, Persians, Romans, Byzantines, Seljuks and Ottomans, have all come and gone with the winds of time, it is the one enduring sight that remains.
The rock formations and fairy-like chimneys tower over like latter-day wind farms. Over thousands of years, the elements have eroded layers of volcanic ash formed by Mount Erciyes, Hasan and Melendez mountain ranges to create today's landscape.
When a thick piece of basalt forms on top of a layer of ash, the surrounding ash erodes, but it protects the section under the basalt, leaving behind a conical rock structure with a cap. Lichens turn the whitish ash a black or greyish colour and protect the stone from further erosion.
It was during the 4th to 13th century AD that tribes realised they could dig into and mould the rock face into tunnels, houses, churches, and stores. The Hittites were the first to construct underground cities by burrowing into the rock while the Early 4th century Christians used and expanded shelters to escape Roman persecution.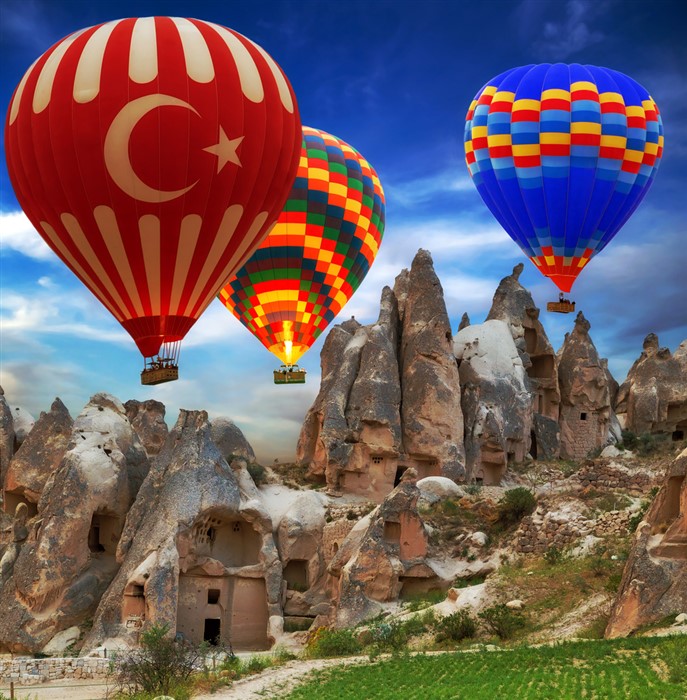 Göreme Open-Air Museum is the most famous site for visitors to see old monastic communities. Comprising over 30 carved-from-rock churches and chapels, some having superb frescoes inside. Walk the valleys, see untouched local underground homes, a crazy labyrinth of paths leading from one ruin to another, and those fairy chimneys standing over the landscape like guardians.
Other Things To do in Cappadocia
Hot Air Ballooning in Cappadocia is one choice, but many other activities exist including quad biking, jazz and wine festivals, cooking classes, gondola and jet boats, Turkish baths, and pottery courses. All of our round the country tours stop by Cappadocia to take in the top sights and attractions.
Otherwise read more about the Cappadocia region of Turkey, in our blog posts series. Talking about underground cities, where to stay, what to do and more, it's a great resource for first time visitors to the area.