Throughout history, the lands of Turkey have accommodated numerous empires. One of those was the Lycians who existed on the Mediterranean coast from around 1250BC to 546BC. Known for their many attributes, their main strength was forward thinking, archaeological designs and although not a fierce group of people, they were skilled on the battlefield. Their language disappeared hundreds of years ago, but they did leave many traces of their existence including artefacts and ancient ruins, of which some are now UNESCO World heritage sites.
Walking Route of the Lycian Way
The red and white marked walking route, which is officially recognised by the government, starts in the Antalya region, a cosmopolitan destination comprising of small but delightful holiday resorts. The route then stretches 516 kilometres westerly, before finally finishing in Olu Deniz in the Fethiye region.
The mapped walking trek is graded from hard to medium, but novice trekkers who are still eager to see the Lycian sites can use public transport or join one of our group tours using small minivans for transport. To complete the trek from start to finish would take approximately three months, but most of our customers, complete it in sections, returning year after year to a different starting point.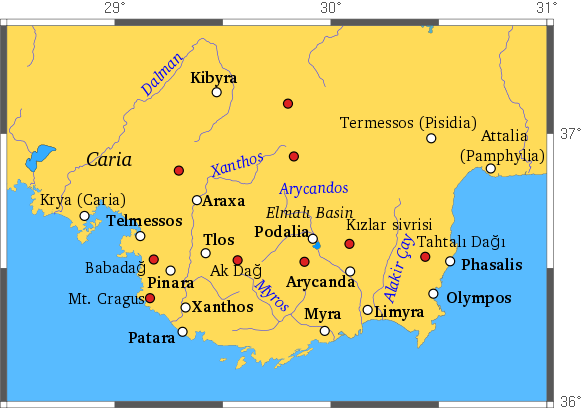 Popular Ancient ruins of the Lycian Way
Near the resort of Kemer and Cirali is Phaselis, an ancient sea trading port that was deserted after constant invasion from pirates. The visit can be combined with a walk along the sandy beach but we also recommend seeing the burning flames of Chimera. Steeped in Greek mythology, they burn all the time due to natural gases escaping from the rocks.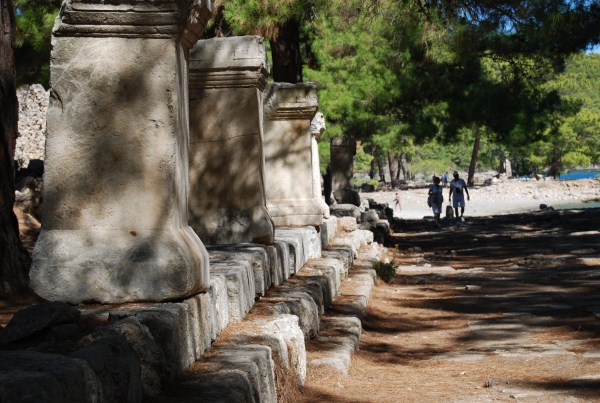 Olympos presents a mythological appearance due to its location in a dense forest. Ruins to see include old houses, Christian churches and the Sarcophagus of Captain Eudemos. Accommodation at this base can be the rustic village of Olympos, mainly used by young backpackers or the more quiet resort of Cirali.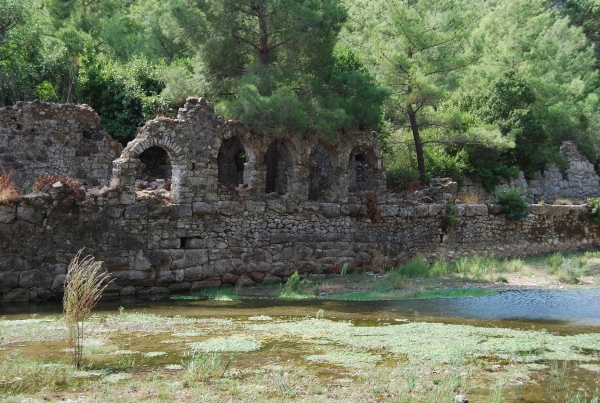 The highlight of the ancient ruins of Myra is Lycian rock tombs entombed into the hillside and also the largely intact ampitheatre. Combine a visit to Myra with a tour of the nearby Church of Saint Nicholas, otherwise known as Santa Claus.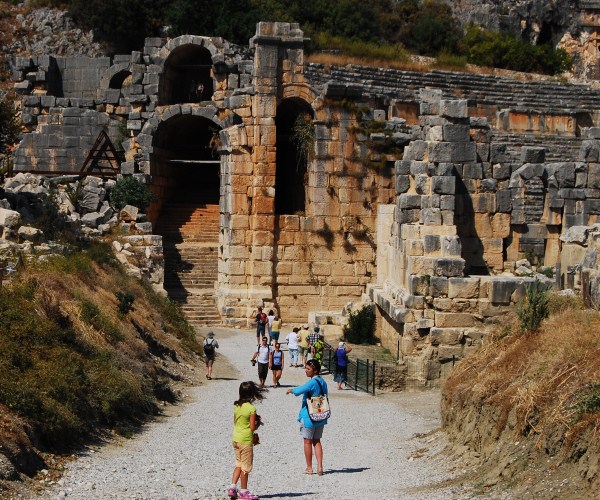 Patara was a prominent member of the ancient Lycian league, and although the ruins may disappoint in terms of size, excavations are on-going all the time so repeat visits are encouraged. The nearby rustic village is an ideal place for overnight accommodation.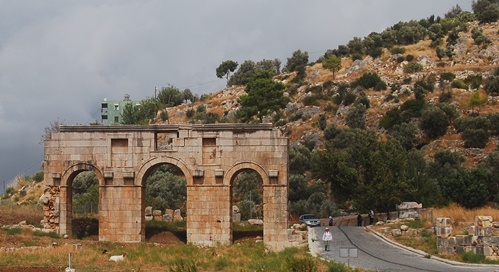 Tlos is not often mentioned in mainstream travel brochures but it still impresses everyone who has a passion for history. Excavated ruins include an ampitheatre, agora, Roman baths and still standing with a magnificent view over Xanthos valley are intact Lycian tombs.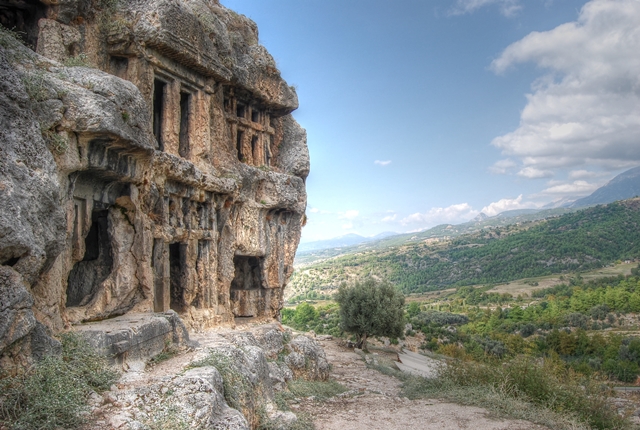 Handy tips for the Lycian way
At certain points, the descents and ascents are difficult to navigate and complete. You should advise your tour guide of any health issues and be aware of your own capabilities. The best time to walk any part of the trek is in the months of April, May, October, or November. During these months, potential rainfall and intense heat is limited.
Further Reading
Contact us to enquire about tour guides and overnight accommodation on the Lycian way.