Pamukkale in Aegean Turkey is also called the "Cotton Castle", because of the white, cottony appearance of the mineral bath spas that abound the province, which is rich in calcium. Known as a "spa town" since the Roman era, tourists travel to Pamukkale to relax in warm, soothing and therapeutic waters in the myriad spas.
About Pamukkale, in Turkey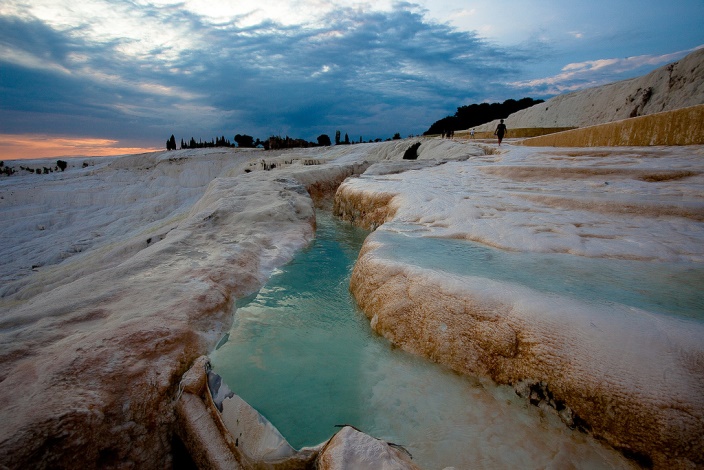 Pamukkale is a small place, but it has remarkable spots to make your trip memorable such as the ruins of Hierapolis (ancient spa town), Sacred Pool (scattered marble columns add to the charm of this warm, calcium-dense pool), Travertines (calcium deposit terraces), Roman Theater and the archaeological Museum.
Many years ago, Greeks and Romans discovered the curative properties of the warm mineral springs that are found in Pamukkale. Predictably, these springs attracted droves of tourists to the place, but not only to seek therapeutic comforts, but also to see the magnificence of the hardened calcium bicarbonate cascading over the cliffs.
Known as the Cotton Cliffs, it is a famous and stunning calcium structure that earned a UNESCO World Heritage Site title in the 1970s.
Cleopatra's Thermal Pool at Pamukkale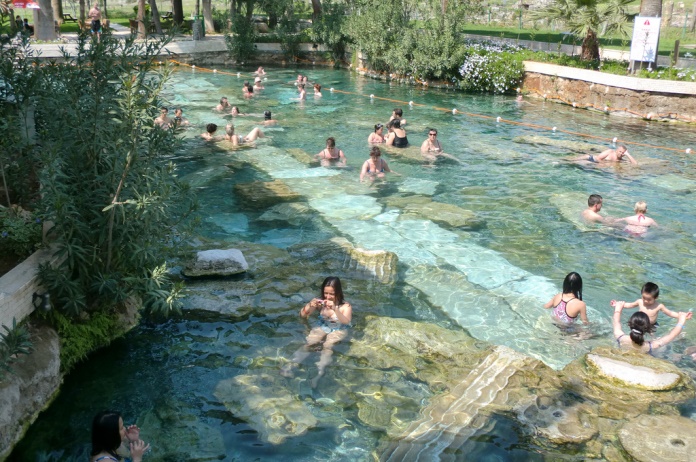 Cleopatra's Thermal Pool in Pamukkale is a magical place combing relaxation, beauty and history. The thermal pool was built during the Roman era after they discovered the warm waters of Pamukkale provided relief for illnesses such as asthma, arthritis and digestive problems.
The structures of the thermal pool collapsed during the great earthquake in 60AD, but instead of ruining the pool for good, the fallen columns and stone carvings provided a quaint, historic touch to the mineral baths. The temperature usually stays within 36-57⁰C, a great range to suit the varying preferences of the tourists.
The Ancient City and Ruins of Hierapolis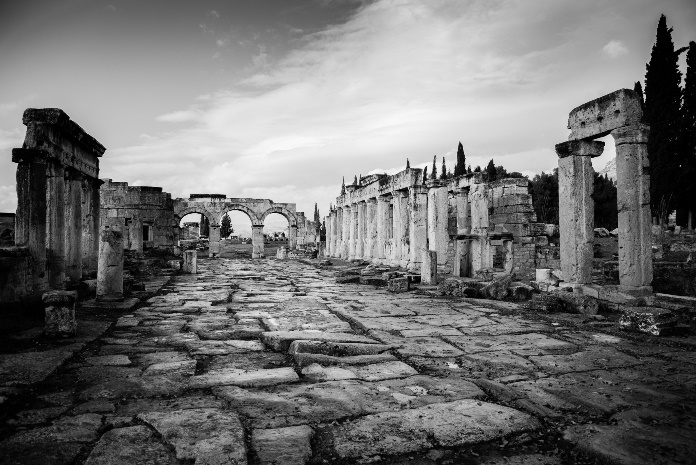 The Ancient City of Hierapolis gained popularity when its calcium springs were discovered by the Romans to have curative properties. The Romans presented the city as a gift to the King of Pergamon, Eumenes II, which he named Hierapolis, in honor of Hiera, the wife of the founder of the Pergamene Dynasty, Telesphorus.
What makes Hierapolis different from most places on Earth is that it is not built on land, neither on water, but on limestone deposits above the mineral springs in the area. It is a UNESCO World Heritage Site because of the ruins that are littered all over the city, including the necropolis that houses the sarcophagi of important ancient figures like Marcus Aurelius.
Further Reading on Pamukkale
See our tours that visit Pamukkale
Image Credits : Hierapolis and Pamukkale at sunset and Cleopatra's pool