Cappadocia resembles a make-believe world where fairies exist in rock houses nicknamed "fairy chimneys." Faries have nothing to do with it, though. Instead, millions of years ago, many volcanic explosions littered the Cappadocian plateaus. Time, the wind, and water then worked together in making a landscape that is out-of-this-world.
These days, many places to visit in Cappadocia portray its natural history as well as the timeline of humanity's presence in the area. From underground cities to cave churches to deep valleys, the main attractions, and unique towns make Cappadocia a top tourist destination in Turkey. So let's look at places you should put on your bucket list.
Places to Visit in Cappadocia
Goreme Open Air Museum
Goreme Open Air Museum is a UNESCO World Heritage Site, and the most visited museum in Cappadocia. Featuring rock-cut churches dating from the 10th, 11th, and 12th centuries, even more, notable are restored Biblical murals on the interior walls and ceilings. Notable churches include the Nunnery, St. Barbara Church, Apple Church, Snake Church, Dark Church, Carikli Church, and Buckle Church.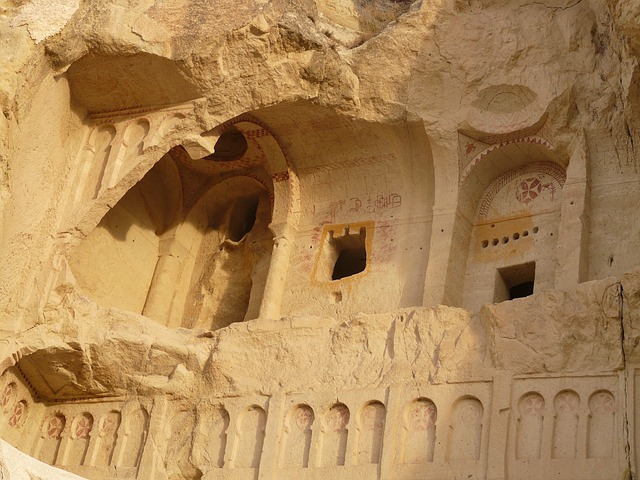 Avanos River and Town
Avanos and its pottery industry are a favorite place to visit in Cappadocia, especially on guided tours. Dating from the Hittites presence in the region, the Kızılırmak or the Red River is the source of red clay that distinctly marks Avanos's pottery trade.
Buy beautiful pottery in Avanos or for a unique experience, join pottery-making classes, and create your own pots. Located 5 kilometres, southeast of Avanos is Sari Han, a caravanserai famous for its majestic Seljuk architecture. Shells, rope, and knots style of architecture complement prominent yellow, pink, and beige décor colours.
Uchisar Castle
Wandering the small and quaint town of Uchisar introduces visitors to a significant amount of original cave homes of which some are still used. However, the large, obtrusive rock castle generally receives the most admiration. As the highest point in Cappadocia, the landscape view is one of the best and on a clear day, Mount Erciyes stands proud and tall in the distance. At the foothill of Uchisar hill, souvenirs shops set up on the roadside make for enjoyable browsing, or you could always go for a ride on Uchisar's resident camel!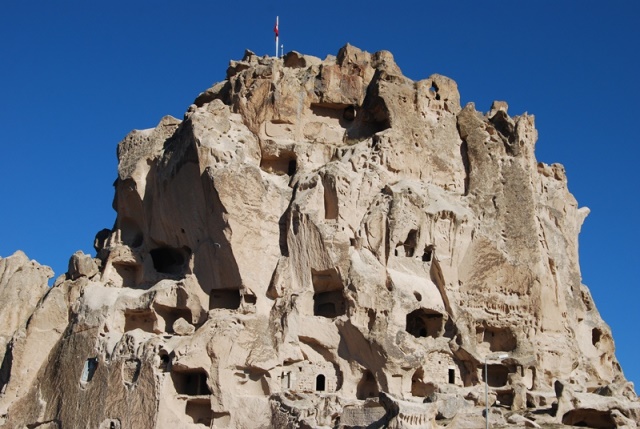 Derinkuyu Underground City
Derinkuyu Underground City is another excellent contribution towards the list of places to visit in Cappadocia. During the Hittites era in the year 2000 BC, locals dug underground and carved various floors to make into a city. In later years to come, remaining settlers used the underground city for dwelling, especially when armies, looters, and marauders invaded Cappadocia. Read more about Derinkuyu and the underground cities of Cappadocia here.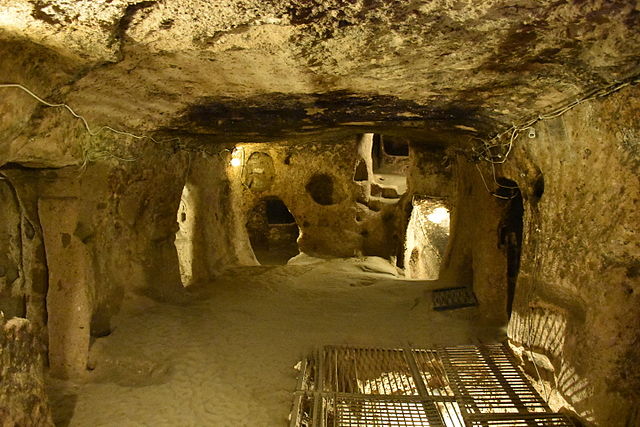 Devrent Valley (Imagination Valley)
Unlike other towns in Turkey, you won't find ancient churches or archaeological ruins in Devrent Valley, because it is the "lunarscape," that wows instead. These rock formations are a product of million years of weathering and erosion. Look for rock formations with weird and unique shapes that resemble animals, but the most popular is the pillar resembling an image of the Virgin Mary holding the Holy Child.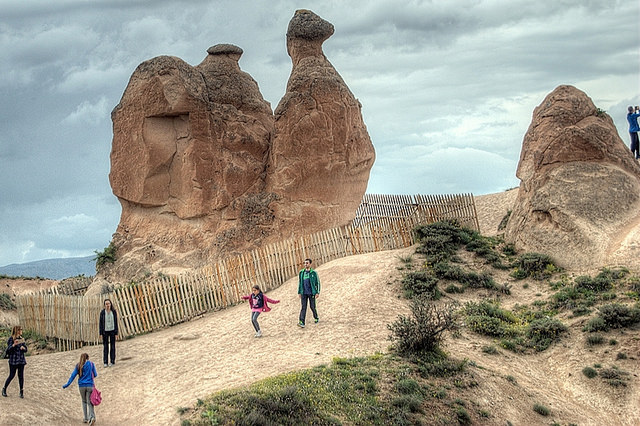 Rose Valley
Gulludere Valley, also known as Rose Valley, is another weird and otherworldly terrain because lush, verdant vineyards and orchards make its geography even more colourful and beautiful. You will also find Cappadocia's signature hidden rock-cut churches in the Gulludere Valley, namely the Church of Three Crosses and Church of St. John. The well-preserved frescoes look untouched by time or by anyone; appearing to be as fresh as when they were painted, complementing the impressive structure of the rock-cut churches.
Ihlara Valley
Cappadocia's geography is mostly a product of nature's forces, specifically its famous volcanic rock formations. Another breath-taking place is Ihlara Valley, a hundred meter deep canyon formed thousands of years ago by the Melendiz River.
Ihlara Valley is a tapestry of lush greens, flowing water and centuries old cave churches. Churches within it feature intricate biblical frescos like most Cappadocian churches. Estimations by experts say a hundred cave churches are in the Ihlara Valley, but the most visited are the Smelly Church, Church with the Terrace, and Church under the Tree.
Red Valley
The Red Valley, named after the spectacular volcanic rock formations that magically change in color is a perfect place to end a day touring as the sun sets. What is even more amazing than these rock formations are the rock-cut Hermit churches similar to what you can see at the Goreme Open Air Museum.
Curiously, the fresco paintings managed to maintain their vibrancy even after all the centuries. Uzumlu Church, or more commonly known as Grape Church or St. Nichlitas Church, has an image of the Virgin Mary holding Jesus Christ, flanked by Angels Michael and Gabriel.
Places Further Afield
Kayseri: Conservative Turkish City Life
Kayseri is roughly an hour's drive from Cappadocia, and it has an intense vibrancy to it; it is one of the rare towns with a steady gaze on the future and a healthy appreciation of its past. The past decade has seen an economic boom paired with population growth.
Historical sites to visit in Kayseri are the 6th century Citadel, Cifte Minareli Medrese (a theological school with high, twin minarets on its façade), Ataturk Evi (traditional Ottoman house), and the Ulu Camii (also known as Great Mosque, a Seljuk architecture masterpiece). You must also check out the bazaars in Kayseri, especially the Bedesten Bazaar, which has been open since 1497. You can purchase Turkish signature items such as carpets, textiles, and jewellery.
Konya: Home of Rumi
Konya (roughly two hours from Cappadocia) is an ancient city founded by the Hittites in 1500 BC although excavations revealed habitation took place as far back as 3000 BC. Known as the town of "whirling dervishes" because of its connection to the Sufism branch of Islam, structures showcasing this characteristic include the Dervish Cemetery and the Mausoleum of Jamal ad-Din Rumi. Walking the streets of Konya also reveals astounding Seljuk architecture in landmarks such as Alaeddin Mosque, Mevlana Museum, Selimiye Mosque, and the Konya Archaeological Museum.
Further Reading: Find out more about our mini tour takes you to all the best places to visit in Cappadocia, Turkey including Goreme, Ihlara, and Derinkuyu Underground city. Also read all articles on this blog about Cappadocia including more things to do and attractions to visit.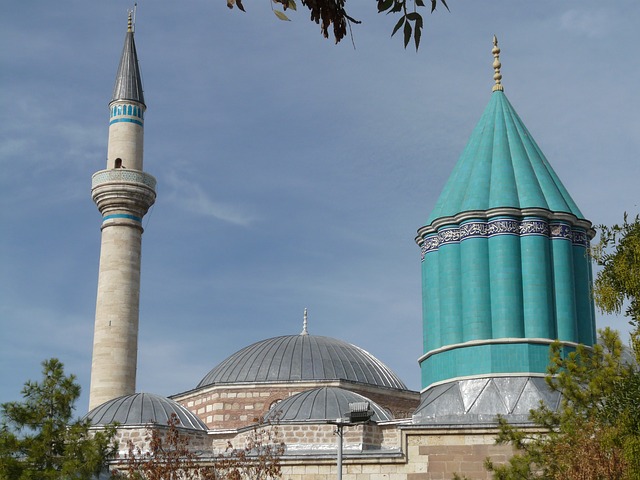 Save
Save
Save
Save
Save