One of Urfa's main attractions is the Sacred Fish Pool inhabited by thousands of fish. The Sacred Fish Pool can be found in the courtyard of the Halil-ur-Rahman mosque, which dates back to 1211.
What makes the Sacred Fish Pool popular aren't only the fishes or the colorful gardens that surround it, but its historical significance. The location of the Sacred Fish Pool is the spot where the brutal King Nimrod threw Abraham into deathly flames.
History is often partnered with legends and with the Sacred Fish Pool, it is believed that heaven's gates will open when a white fish is spotted.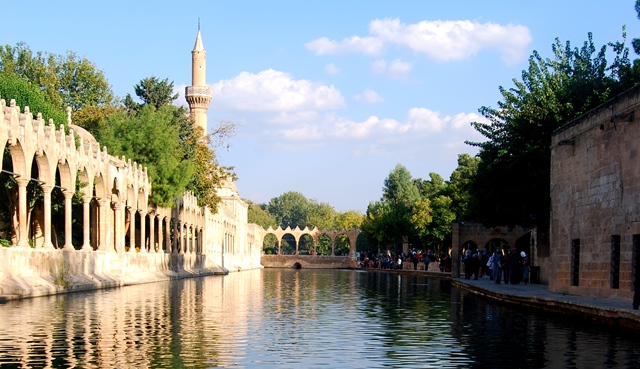 Recommended Tour to See the
The Pool of Abraham ( Balikli Göl ) in Sanliurfa
The Exotic South East Tour taking place over 5 days, visits a number of historical, religious and cultural attractions in the Southeast of Turkey.
As well as the pool of Abraham, other destinations include the ancient temple of Gobeklitepe, the old town of Mardin and the mysterious statue heads of Mount Nemrut. Read more here.