If you want to try some Turkish customs and traditions, an easy induction is to drink a glass of Raki, the unofficial national alcoholic drink of Turkey. It tastes like the Greek equivalent of Ouzo and is widely consumed in Turkey despite high price increases over the last few years.
There is certain etiquette to drinking it though. Just like the French respect their wines and the English love their beer; Turks have an age-old tradition for drinking Raki the right way!
How to Drink Turkish Raki aka Lions Milk
The nickname for Raki is lion's milk because it is traditionally drunk with water and ice. The water clouds it to a milky white appearance hence the nickname.
Consume Raki over enjoyable conversation with good friends during the course of a long evening. Fish is the best meal to eat with it however if your appetite is not that big, a plate of mezes on the table to share between everyone is the next best choice.
If there is a group of friends sitting down, it is impolite to order your own glass, instead a bottle for the whole table should be ordered.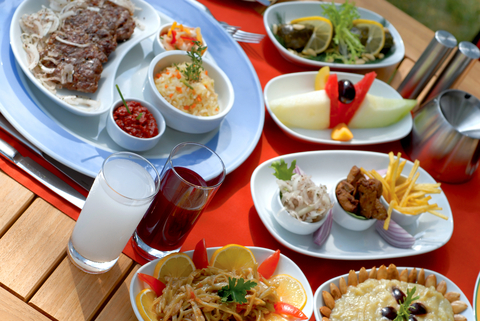 What is the alcohol percentage of Raki?
Raki has a subtle taste of aniseed and it can be tempting to drink the whole bottle but before you knock back glass after glass, be aware that the alcohol content is 40%.
I have heard locals say that if you are suffering the next morning, drink one more glass of Raki and you will feel on top of the world; the equivalent of the western saying "hair of the dog"
What Brands of Turkish Raki are sold?
Yeni Raki is the most popular brand and this has been in production since 1944. Other brands include Tekirdag, Izmir, Altinas and Efe. As well as ordering glasses, Raki is available in four sizes of bottles 20cl, 35cl, 70cl and 100cl.
Raki Cocktails
As much as Raki should be drunk with water, some clever Turkish executives hit upon the idea of Raki cocktails so they could cash in on the popularity.
You will see menu for Raki cocktails in most sophisticated bars and a few nightclubs. At least try one glass of the national drink while you are in Turkey. You never know, it might become your favourite tipple.
Our Tours of Turkey
Learn about traditions, cultures and destinations on our tours of Turkey. From the east to the west, the country is introduced through its people and places. Find out more…
Save
Save