The Turkish kebab is part of everyday cuisine. Even in the UK, I have memories of Friday or Saturdays nights, when we used to pile out the pub and into the local kebab shop. The ideal late night snack was flat pitta bread, filled with döner meat, lettuce, tomato, onions and topped off with a hot chili sauce.
It was not until I came to Turkey, that I realized the pitta bread version was an English adaptation and the popular choice here was durum bread. I also learned there are around 40 different versions of the Turkish kebab. Many of them are regional and originate from a specific place in Turkey. I am still working my way through the total list of Turkish kebabs so in the meanwhile here is a look at my favorite versions.
My Favorite Turkish Kebab Varieties
Çöp şiş originates from the west coast and I have fond memories of driving through the town of Soke and stopping at one of many Çöp şiş restaurants lining the main road. This kebab variety is a selection of skewered and cubed beef, lamb, or chicken that is grilled over hot coals with tomato and onion.  Traditionally accompanied with roka leaves, this roadside food attraction is cheap on the pocket.
The first time I noticed Testi kebabs was on a visit to Cappadocia. It is a combination of meat and vegetables cooked in a clay pot in their own juices. The biggest attraction is that the pot of clay is sealed after filling it with ingredients and breaking it is the only way it can be opened. This method of cooking makes the dish slightly more expensive than your average kebab.
Traditionally the döner kebab refers to meat placed on a vertical skewer in front of a rotisserie. Thin pieces are sliced off and numerous dishes can be made hence making even more types of kebabs. The popular street food version is to place the meat in a Dürüm wrap along with salad ingredients. Some vendors also put it between bread however; I do not like this version as they also make the bread soggy by covering it with a tomato sauce.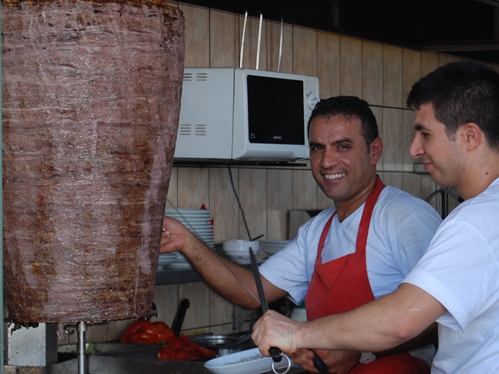 Personally, I like döner on the rice, which is exactly what it says. Döner meat covering a bed of rice and eaten with salad, especially roka. Another variation on the typical döner kebab  is the Iskender. Wide slabs of meat cover pita bread and are dressed with a hot tomato sauce and lavish helpings of yogurt.
A very different twist to the traditional kebab is the Adana kebab that is made with mince instead. The mince is bonded together and placed on a long, flat skewer to be grilled over an open flame. An Adana kebab is spicy however if hot food does not tempt your palette, opt for the non-spicy version called the Urfa kebab.

Readers Question: Do you give a thumbs up or down to a Turkish kebab of any variety?
Istanbul Tours
Let your tastebuds go wild in the cosmopolitan city of Istanbul. Learn about Turkish cuisine by exploring the eateries on our tours..