Starters, appetizers, hors d'oeuvre are all the same word for a pre-meal small dish. They are nothing new in the world of cuisine. Known all over the world, they are intended to kick start the appetite and satisfy the palate until the main meal arrives.
Mezes are the Turkish equivalent but the concept is more than just a starter. The Turks put just as much work and thought into their mezes as the Spanish do with their tapas.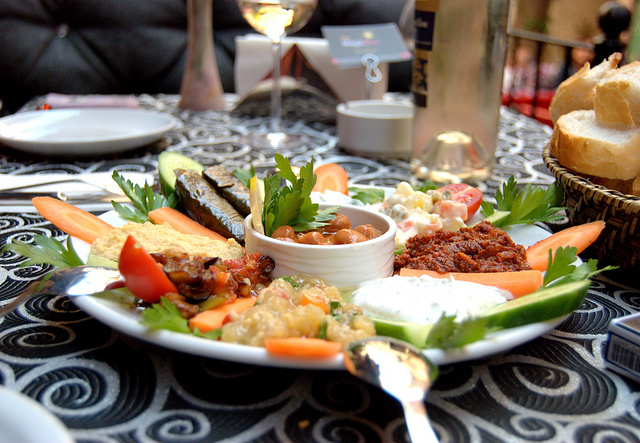 Meyhane
Originating during the Byzantine era, Meyhanes became increasingly popular in the Ottoman period. They traditionally provided entertainment, while serving various mezes accompanied with alcoholic drinks.
When certain Ottoman rulers banned alcoholic, it was still served, but in dark and secret locations that only certain locals knew about. The enjoyment of slowly snacking on mezes, sipping alcohol while having a good time with friendly company was just too popular to fade away.
These days, Meyhanes have faced increasing competition with modern day bars and fast food establishments so most have changed their traditions to include main meals and desserts. If you are in Istanbul, visit Flower Passage, to find Meyhanes.
Social Traditions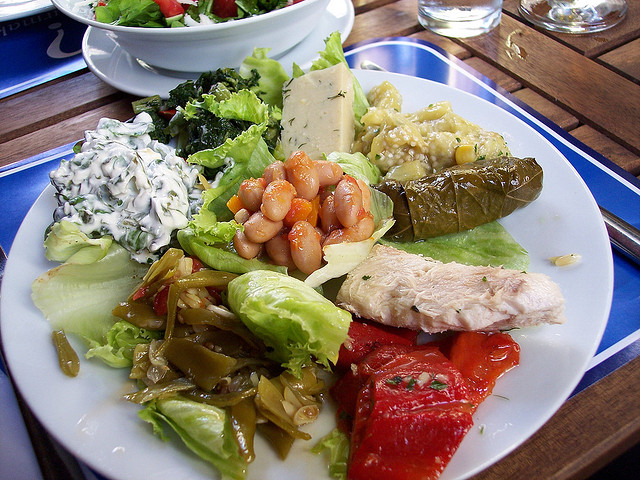 Depending on the company you are with, Turkish mezes are a sociable tradition, served to the whole table rather than an individual person. The waiter will bring a variety of mezes to the table, of which the chosen dishes are placed in the centre, along with a big serving of fresh bread.
Like Meyhanes, in most traditional Turkish establishments, is still possible to order just mezes and drinks. This is popular in many holiday resorts of the Aegean and Mediterranean coasts. Instead of immediately tucking in and eating all the dishes, mezes are instead nibbled on throughout the night and more are ordered if needed.
Types of Turkish Mezes
Only fresh produce is used to make Turkish mezes, and sometimes complex ingredients and cooking processes can make the recipe a time consuming process. Simple mezes are also served as well like white cheese, watermelon, or dry cured meat called pastirma. Popular versions to try when you are eating out in Turkey include…
Haydari: Yogurt, dill, and garlic
Ezme: Finely chopped onions, peppers, herbs, mixed with tomato paste and chilli flakes
Humus: The same version, served all over the world
Patlican Salatasi: Cooked and mashed eggplant covered with olive oil
Sigara Borek: Cigar shaped pastries filled with white cheese
Fava: Mashed broad beans mixed with olive oil and herbs
Calamari:  A favourite in the coastal resorts is fresh, battered calamari
  Recommended Tour
An Istanbul cooking class is the ideal way to learn about Turkish food and how to make it. Run by an experienced chef, you will taste the finished products and also get to take the recipes home with you. Find out more here.