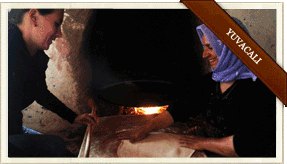 Homestays – sampling the every day life of a country's people – have fast become an alternative tourism attraction for travelers.
Experiencing rural life in Turkey is no different and we can provide you with a village homestay with a family in the remarkable village of Yuvacali, a traditional Kurdish village in eastern Turkey.
Yuvacali Village Homestays
Yuvacalı, near Hilvan, close to the vast Atatürk lake, has been inhabited since about 9000 BC and is credited as an important outpost of the Roman Empire.
It has become just as significant in breaking new ground as a homestay for the more adventurous holidaymaker looking to experience rural life firsthand with a local family.
The village, which has about 100 households, exists on the proceeds of farming, but although in opening up to the tourism boom, it has not conceded to outside demands – it is utterly authentic and women visitors are advised to wear long skirts.
What you get on a homestay in Yuvacalı is famous hospitality, a quilt, maybe a mosquito net, and an outside loo. But the warmth of the family you lodge with will help you overcome the cries for anonymous 5-star luxury.
Eating is a communal affair where you can dip into dishes of delights, while you will be able to see how their food is prepared and cooked as the day unfolds.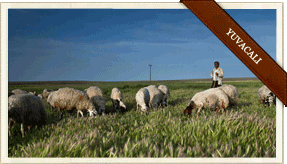 You have a number of options: whether it be sampling the farm's every day chores; simply chill out; venture out to see local ruins or head to Şanlıurfa
You could always stop at the Ataturk Dam, regarded as the largest in the Middle East, or visit the animals market and the nomads that inhabit the vast expanse of north east Turkey.
During the summers, guests and families sleep outside, while in winter, the houses are well-heated with dung burning fires and guests sleep under thick, handmade quilts.
You can take in the vast circle of what could be an Iron Age hill fort or the hilltop shrine of Hacı Ömer: where past ancestors were considered fire-worshippers, for whom Wednesday was the most important day of the week.
The overall concept of Yuvacali is a living village that clings close to past traditions, but with a modern out take which can rarely be found in other parts of Turkey.