A mass collection of holiday resorts in Turkey have made it a top tourist hotspot. Additionally, holidaymakers often prefer familiarity and return year after year to the same resort where they have made long life friends with local Turks.
Much of the holiday industry centres around Turkey's Aegean and Mediterranean coasts, boasting of excellent beaches and nightlife scenes, and popular places benefitting include the Bodrum peninsula, Fethiye, Marmaris and Antalya regions.
The Aegean, stretching from the north near Istanbul, meets the Mediterranean on the Marmaris peninsula. As a popular holiday destination for people of all nationalities, the biggest attraction is Ephesus ancient city ruins. However, other historical landmarks, and beautiful landscapes and traditional coastal fishing villages, are good reasons to extend your stay.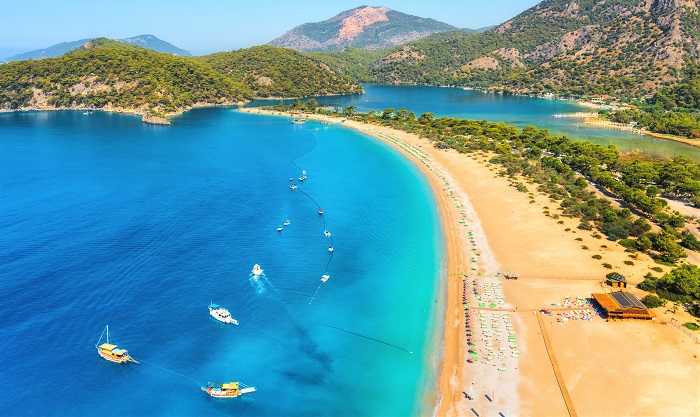 The Mediterranean coast continues east from Marmaris. Backed by the Taurus Mountains, it ends at the south-eastern Hatay province. Turkey's Mediterranean coast is the second most popular holiday destination after Istanbul.
It is easy to understand why when we look at the vast numbers of beaches, historical ruins, hotel accommodation and the sunny climate. What can be hard though is choosing where to go, because each region has character. The diversity is unlimited.
Holiday Resorts in Turkey for the Whole Family
1: Beautiful Kusadasi
This cosmopolitan resort attracts large cruise ships docking in to take passengers to Ephesus. Kusadasi is also close to Dilek national park. This government-protected landmass is acres of green forests, parks, and beaches ideal for walking, trekking and biking holidays. Within the park, Doganbey old Greek village displays fantastic examples of Greek architecture in old houses, covering the green hillside. The locals also favour New Doganbey for fresh fish restaurants serving crispy calamari and traditional Raki.
2: Didim and Altinkum Resorts
For years, Didim, a smaller resort, maintained a fishing village atmosphere. These days, it attracts British expats who live there all year round and is also known as Altinkum. Didim has three appealing attractions. The first within the traditional resort's boundaries is the Apollo temple. This former iconic landmark was an oracle and sanctuary during the Ionian period. Continue your journey and in thirty minutes, find the ruins of Ancient Priene and Miletos. The restored Miletos theatre includes passageways underneath to walk the same steps as gladiators. Also opened is Miletos Museum displaying artefacts from historic eras.
3: Bodrum: Traditional and Sophisticated Vibes
Some smaller coastal resorts have sold out to mass tourism, but Bodrum centre itself stays true to traditional values while moving with modern trends to accommodate every type of traveller. Budget bed-and-breakfast hotels line the back streets while in secluded locations, five-star luxury hotels provided unlimited pampering.
The old bazaar's winding cobbled streets led to bar street and swish establishments pumping out the latest western music hits to attract party lovers. Large comfortable seaside restaurants serving international cuisine are just a short walk from Turkish eateries used by locals only. Hence, such is Bodrum's diversity; it attracts and pleases everyone.
One main reason for its popularity is as a starting point for a Turkish Riviera Blue Voyage cruise. Made famous by the angler of Halicarnassus, Cevat Sakir Kabaagaçlı, he explored the Aegean and Mediterranean coastlines, documenting his travels along the way. He hired a traditional gulet boat, which was a fishing vessel, but as the word of the Turkish Riviera spread, gulet boat construction teams adapted styles and designs for overnight accommodation.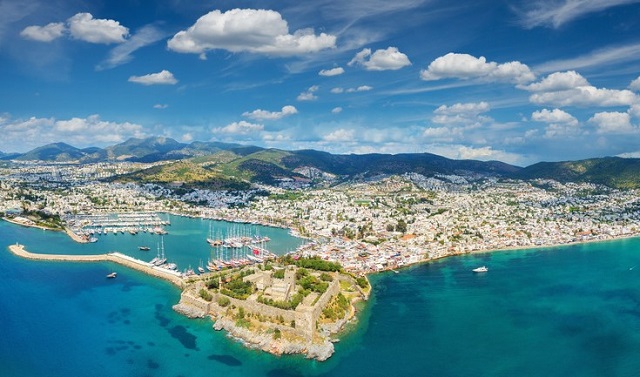 After flying into Bodrum airport, visitors head to the harbour to start their Blue Voyage cruises. Destinations vary from the scenic Gulf of Gokova, the dissimilar peninsula of Marmaris or even further afield to Fethiye. Spend daytimes sailing, snorkelling, and swimming in deserted coves and bays. The gulet boats also dock into other resorts, where passengers disembark to explore villages and ancient ruins.
Also consider neighbouring coastal resorts like Yalikavak, Turgutreis, Gumbet, and Bodrum's surfing capital, Kadikalesi. If you are planning a road trip, Bodrum peninsula is ideal because of comfortable driving conditions along the coastal roads. Well known for its marina and annual classical music festival, a must-see in Turgutreis is the vibrant orange sunset, which is at its best during the summer months.
4: Other Popular Aegean Holiday Resorts
Canakkale is a stopping point for many on their way to visit Troy and Gallipoli battlefields. Turks from big cities love Cesme, on the Izmir peninsula. Think culinary specialities, extensive marinas and historic Ottoman fountains scattered throughout the resort. Foca, another popular destination for Turks who own summer homes is a small but delightful resort known for old Greek houses and protected marine area for monk seals. The Datca peninsula does not feature on any tourist list, but it has a unique charm and beauty boasting of a few restored windmills. Small villages within this area make it a significant driving holiday destination.
5: The Mediterranean Fethiye Region
The stunning Fethiye region has many places to stay and things to do hence suits everyone from families, and couples to groups of friends. Smaller resorts include Hisaronu, Calis, Ovacik and British, dominated Olu Deniz while daytime excursions often run to Tlos ruins, rustic Yakapark fish restaurant, Saklikent Gorge, Blue Lagoon and Butterfly Valley.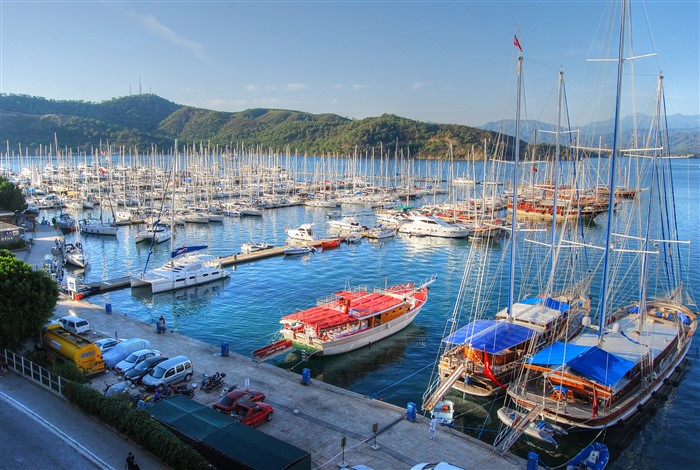 As you enter Fethiye city , the Amyntas tomb, a symbol of grandiose culture of earlier centuries greets you. Fethiye's geography, characterised by rising and falling slopes, also feature limestone mountain ranges. Called Telmessos in history, summer is the best time to visit when tourists enjoy canoeing, parasailing and para-gliding.
Olu Deniz, a favourite resort for British holidaymakers, boasts of places of natural beauty. Visit Butterfly valley, and Turkey's famous Blue lagoon. The Turkish name "Oludeniz", when translated in English, means "dead sea", pertaining to the sea's stillness. Take note; however, there is nothing dead about Oludeniz. Pine tree hills surround the lagoon which is a deep, royal blue colour trimmed with golden sands.
6: Iztuzu Beach and Dalyan River Delta
The warm, golden sand and shallow mild waters of Iztuzu Beach make it perfect for a day at the beach. However, what makes Iztuzu Beach special are loggerhead "Caretta" sea turtles. This endangered species of turtles sparked Turkey to declare Iztuzu Beach, a conservation area.
The Dalyan River Delta is nearby, and famous attractions on this stretch include Lycian Rock Tombs dating from 400 BC. Tourists often indulge in therapeutic baths at Sultaniye where they bathe in the rich sulphur mud. The combination of sulphur and high temperatures (reaching up to 40 degrees Celsius) eases ailments and give bathers ultra-soft skin.
7: Upmarket Kalkan and Charming Kas
British holidaymakers, some of whom bought summer homes, often flock to Kas or Kalkan. Both are typical Mediterranean seaside resorts with whitewashed houses on small hills, leading to the harbour and colourful fishing boats. Kalkan is more of an upscale location while Kas's Lycian tombs and a small amphitheatre are main attractions.
Upmarket Kalkan has maintained its status along the majestic Lycian Coast also called Turquoise Coast. Visit Kalkan's Thursday Market and scour the stalls for souvenir items, local handicrafts, textile and food products. Also visit the old town for high-quality restaurants.
Kas doesn't have many beaches like other resorts. What makes it fun though are high vertical cliffs for extreme adventures like cannoning, rock climbing and para-gliding. Kas, a treasure chest filled with well-preserved archaeological gems like antiquated Antiphellos, Lion Tomb and a Hellenistic Theatre is clean and friendly. This resort staying true to its traditional roots often attracts adventure sports enthusiasts with para-gliding, scuba diving, and cannoning.
8:  The Antalya Region
The Antalya region has many attractive resorts including cosmopolitan Alanya, historical Side, Kemer, the golfing capital of Belek and the city centre itself. The small resort of Kemer exists with all-inclusive hotels and long beaches. It is also an ideal location to stay if visiting Mount Tahtali.
Once the "must visit" destination of Turkey; Patara did not adapt to fast-moving travel trends and rarely features in any mainstream travel brochure. However, if you do not mind basic accommodation and infrastructure, visit Patara city ruins, which belonged to Ionian league. Its vast sandy beach is Turkey's longest. Xanthos and Letoon, two UNESCO sites are a short distance away. Patara, a small, rustic resort ignored by mainstream holiday package companies is renowned for its 16-kilometre long beach and historical ruins sitting further inland.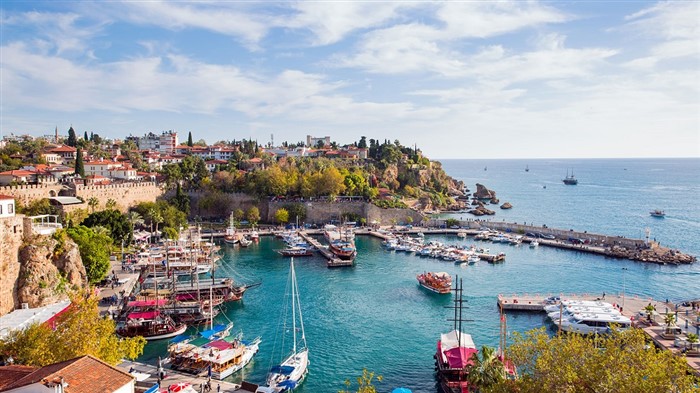 Antalya city is the most romantic region in Turkey, displaying a harmonious marriage of nature, history, and architecture. Local urban legends say gods and goddesses lived in Antalya and this isn't hard to believe seeing the infinite beauty characterising the place. The golden sun and azure seas provide a most beautiful backdrop to remarkable ancient ruins like Aspendos and charming Kaleici.
There are many things to do around Antalya, most of which come cheap or even free; admire the scenery at the Yacht Harbour and enjoy the fisherman's fresh catch, visit historical and archaeological sites like the mosques, the Clock Tower, Ahi Yusuf Mescidi and Yivli Minaret or get on a cruise boat and soak Mediterranean Sea views.
9: Historical Side
Last on our list of holiday resorts in Turkey, Side (pronounced see-deh), is found on a peninsula measuring only 300 meters in width and 800 meters. A small space overflows with some of history's most important archaeological sites such as a theatre, Apollo, and Artemis Temples. Antiquated Greek and Roman structures are in abundance, but you'll also find modern and luxurious hotels, resorts and boutiques. They say the seafood is freshest in this holiday resort but you can always find out for yourself!
Also of Interest
Our tours and excursions around Turkey go to all must-visit resorts and attractions. From daytime tours in Istanbul to three week long holidays covering a multitude of places, the transport, guide, and accommodation are included. Alternatively, read more blog posts about Turkey in our archive posts.