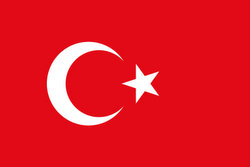 Planning your holiday to ensure no interruptions occur is easy. A set check list covering all aspects including what to pack and weather conditions, normally prevents most things from going wrong.
Unfortunately, one aspect that people tend to forget is public and religious holidays and how they will affect opening hours of amenities and attractions.
Public holidays in Turkey
For the following holidays, banks and offices are closed but touristic attractions will stay open. It is worth noting, that May the 1st has always been a popular day for demonstrations in the Taksim area of Istanbul, and although police presence is heavy, you should avoid the area at this time.
January the 1st: New Year's Day
April 23rd: Sovereignty and Children's Day
May the 19th: Youth and Sports Day
August the 30th: Victory Day
October the 29th: Republic Day
Religious Holidays in Turkey
Two religious holidays occur and their timing changes every year according to the Islamic calendar. Road trips during these periods are generally avoided since traffic is heavy, with Turks visiting families in their hometowns. Banks and offices will close for the duration of these periods. Attractions and historical sites will often close for the morning of the first day and open for normal business in the afternoon.
Seker Bayram: A 3-day festival marking the end of Ramadan feast
Kurban Bayram: Known as the Sacrifice feast, this is a four-day festival honouring the willingness of Abraham to sacrifice his youngest son to Allah
Additional Notes
Both the Grand and Spice bazaars of Istanbul are closed for the duration of religious holidays, and the public holiday of October the 29th. They are also regularly shut on a weekly basis for Sundays.
The Blue Mosque continues to stay open during religious holidays but prayer times receive more attendance than normal so re-opening times to visitors after prayer sessions may be delayed.
It is worth noting that many museums around the country already designate Monday for closure. Although they only close for half a morning during religious holidays, if you are on a road tour or just an overnight stay, this can limit the amount of time left to visit attractions.
If you are traveling to Turkey on the day of vote for a general election, most amenities and attractions will still be open but it is against the law for restaurants and bars to serve alcohol, until voting has officially closed.
If you are in Turkey during Ramadan, you should be sensitive to those around you who may be fasting. Food and drink is still available at all hours of the day but do not eat or drink on public transport or while walking down the street. Sit down at a café or restaurant to eat meals or snacks.
Although not a religious event, Independence Day on October the 29th is  colourful because the Turkish flag hangs from balconies, windows and anywhere else that is possible!  Depending on where you are, there may also be music festivals and marches organized.
Further Reading: See our wide range of tours around Turkey, Cappadocia, Istanbul and Ephesus