Out of many reasons to visit Izmir, a strong one is an intense insight into Turkey's third-largest city, that is completely different from its counterparts like bustling Istanbul. Historical attractions, vibrant nightlife and many shopping venues provide an interesting setting but Aegean Izmir sitting on the coastline is also known for its westernised, cosmopolitan atmosphere where youngsters lead the way in trends and fashion.
Turkey has done a great job of transforming ancient cities into modern metropolises like Izmir. With a history dating from 3,000 BC when Trojans arrived, it has combined primaeval structures with contemporary architecture into a beautiful marriage of history and modernity.
Known as Smyrna in history, past civilisations include the Lydians, Persians, Alexander the Great, Romans, and Ottomans, and in some places, the region's deep Greek history shines through.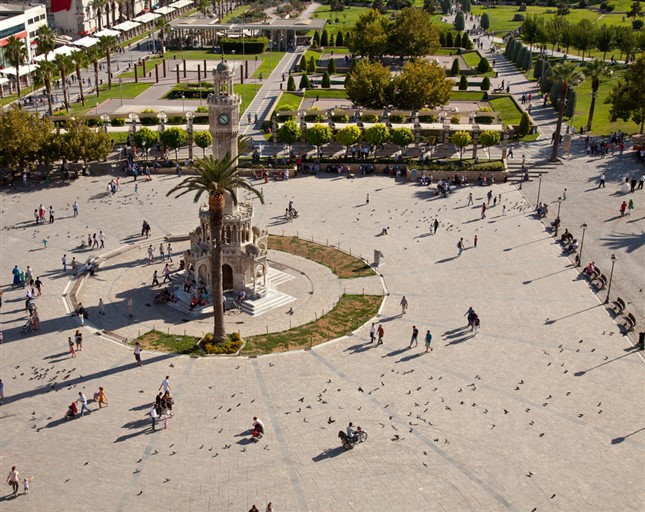 This tourism and business hub includes the main city centre and several small coastal resorts with a more relaxed pace and lifestyle. Foreign and domestic visitors adore the city centre while holidaying and retired Turks often flock to surrounding coastal resorts like Alacati, Foca, and Cesme.
Many international cruise ships also dock in and travellers pass through on their way to popular historic ruins. From plenty of shore excursions to shopping delights, we list a few ideas of things to do when you visit.
14 Reasons to visit Izmir
Smyrna Agora boasts of many Greek ruins and is a surreal experience because of their location among this urban landscape.
Kadifkale castle gives off a 360-degree panoramic view but catch a taxi up the steep hill in the mid-day summer heat.
Geldiz Delta bird sanctuary near Karsiyka is home to over 60 species of birds, of which some are endangered.
The Asanor, an old building dating from 1907 serves as a notorious landmark, but the bonus, a restaurant at the top serves delicious food and gives off an amazing landscape view.
Inciralti Sea Museum in the Balcova district displays two retired vessels from the Turkish navy.
Pergamon ruins are more noted for their historical importance and where parchment paper was invented. The excavated and restored theatre is also in marvellous condition.
In 1901, Sultan Abdulhamid gave Izmir, a 24-metre-high, designed Clock Tower, that now stands in Konak Square and is an enduring symbol.
The Archaeology Museum exhibits an impressive collection of artefacts recovered, including Bergama, Iasos, Bayrakli and Izmir's Agora. A path leads you to the museum grounds, which are full of Hellenistic period amphorae.
Kizlaragasi Han Bazaar dates to Ottoman times and is a town bazaar stocking wonderful carpets, water pipes and jewellery.
The Ethnography Museum mansion recreates Ottoman-style salons, workshops, pharmacy and a diverse collection of Turkish folk art and costumes.
Konak and Alsancak neighbourhoods offer divergent attractions whether shopping for luxury, sipping a beer in back-alley restaurants or taking in wide-open plazas and watching the world go by.
Restaurants on the Kordon serve delicious fish dishes, traditional Turkish Mezes and is the go-to place for locals at weekends.
Alsancak Railway Station, Turkey's second oldest train station offers a unique take on travel over the last century.
Izmir Wildlife and Nature Park is home to many species of animals including elephants, giraffes, hippopotamus, ostriches, and a large variety of foreign birds. Many residents are also on the endangered list of world species. One famous resident is a baby Asian elephant who melts everyone's hearts. And yes, her name is Izmir.!
Ephesus: The Best Reason to Go
Ephesus has always been a must-see for tourists. About an hour out of Izmir, Ephesus houses a 24,000-person capacity theatre, once the ancient world's largest, with its three-storey stage building. It also features the Library of Celsus: built to store 12,000 scrolls and served as a monumental tomb for Celsus, the governor of Asia. (Read more about Ephesus ancient city ruins.)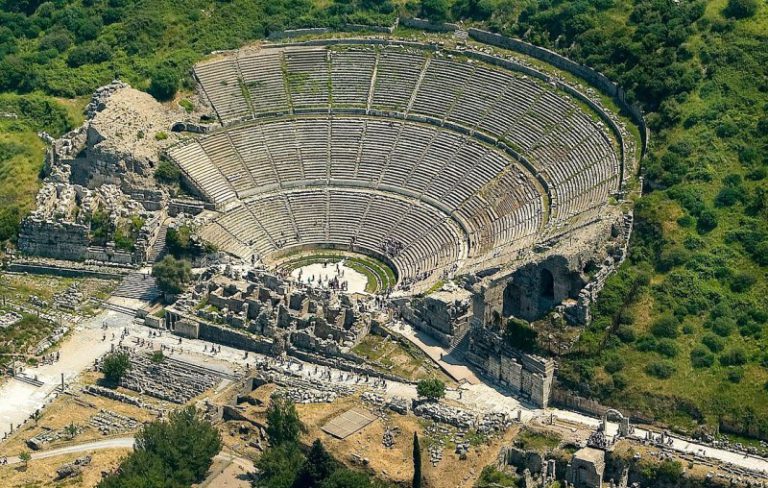 Visit Pergamum Ancient Ruins
When visiting Izmir, don't miss Pergamum, an ancient city of great historical significance that belongs to Turkey's top 100 historical sites and the UNESCO World Heritage list. Its most remarkable monuments and buildings date as far back as 197-159 BC and include the Hellenistic Theatre, the Trajaneum (Sanctuary of Trajan), and Athenium (the Library).
Pergamon is 26 kilometres from the Aegean Sea and its location helped shape ancient civilisations which began during the early Bronze Age. History and archaeology buffs will have a field day looking at magnificent ruins and outstanding restorations of notable structures. Religious devotees also flock because Pergamon was a church of Revelation.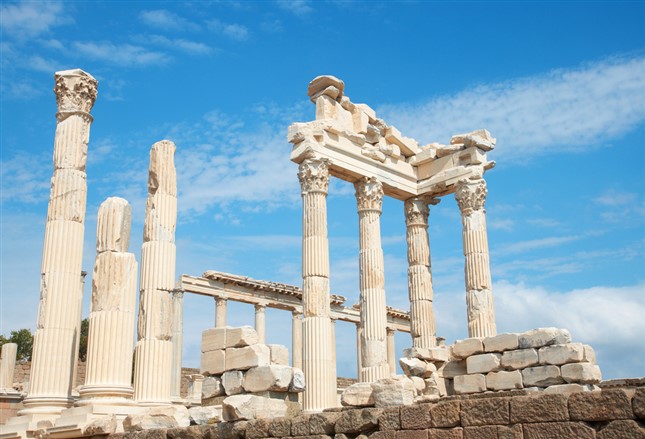 There are two sections to explore. The upper Acropolis includes a Hellenistic Theatre, Trajaneum, Athenium, Sanctuary of Athena and Royal Palace. The Lower Acropolis, includes the Temple of Demeter, Sanctuary of Hera, House of Attalus, Lower Agora and Gate of Eumenes. It is amazing how the 5th century BC Acropolis ruins still stand. A trip to this historical place allows tourists to have a glimpse of Turkey's history when glory, power, and wars reigned.
The 4th century BC Asclepion was the most valuable medical facility. Founded by renowned physician, Galen, doctors here treated Pergamon's wounded warriors. Not long after, it became Asia Minor's main hospital and even gained a worldwide reputation, in its heyday during the Hellenistic and Roman eras.
Patients showed gratitude by erecting buildings around the hospital, such as Emperor Caracalla, who had a theatre built. These days, tourists marvel at fascinating Asclepion ruins and neighbouring buildings including the library, a large theatre nestled into the hillside, red basilica, acropolis, and Temple of Asclepius.
Visit Cesme in the Izmir Region
Last on our list of reasons to visit Izmir, Cesme seaside resort (pronounced chesmeh) is a perfect postcard holiday destination and a great place to relax. It includes two prominent landmarks, several modern accommodations, fantastic eateries, a gorgeous coastline, and plenty of tourists having a great time.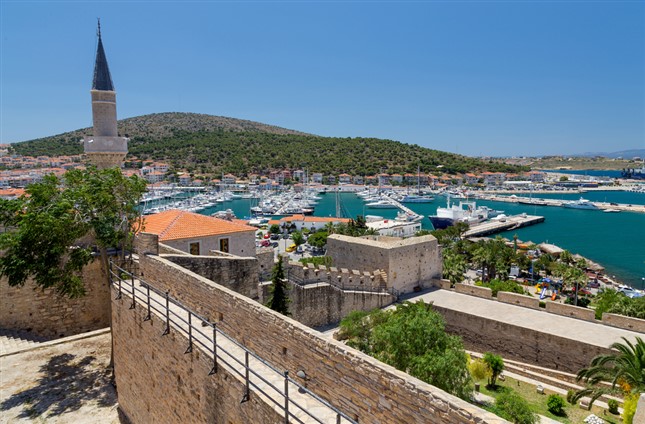 Cesme sitting 85 kilometres west of the city is a favourite weekend destination of Turks who live nearby. An interesting site, the 16th century Cesme Kalesi (Castle) served as a fortress against pirates who invaded Turkey when coming in from the Aegean Sea.
Aside from serving as a museum, Cesme Kalesi gives tourists a striking panoramic sea view. Also, visit downtown Cesme for its well-preserved 19th-century buildings.
Of Further Interest
To explore Izmir and other major attractions of Turkey, see our countrywide tours visiting towns, cities, villages and places of interest.  You can also download our tour brochure with more details and information here.