Turkish Delight, a sweet aromatic jelly mass of flavoured sugar, is as much a byword of the country as is French wine, Dutch Tulips and Swiss chocolate. The unlocked flavours when you bite into a delight are as exotic as a trip through the back alleys of Istanbul. Known the world over, and called Lokum in Turkey, to truly know the original, authentic version, you need to taste it in Turkey.
The History of Turkish Delight
The good news for tourists is that shops all over Turkey sell Turkish delight from street corners to newsagents to specialised souvenir stalls. Two favourite places to buy it are the Grand Bazaar and Spice Bazaar, but we recommended seeking the original shops in Istanbul where it all began.
Haci Bekir, credited with being descendants of the original inventor has five shops in the Pendik, Maslak, and Eminonu areas of Istanbul. History suggests Haci Bekir whose handiwork in his kitchens became an instant with Istanbulites sparked the time-honoured love for the sweet delight.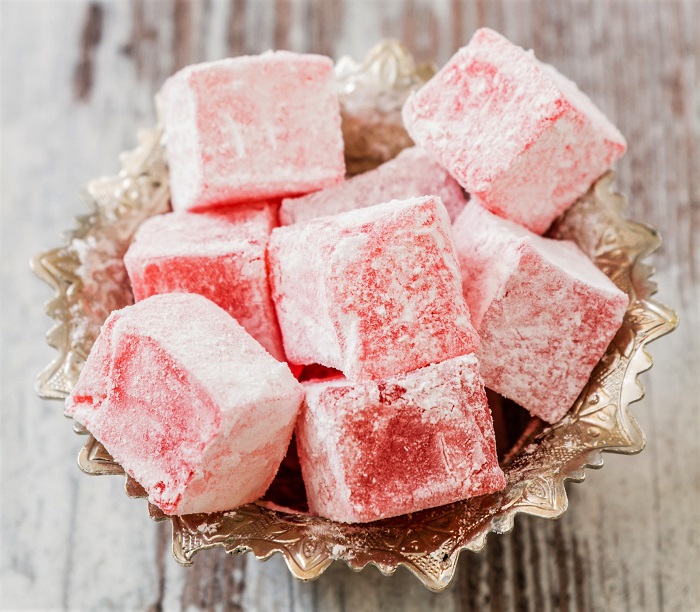 Variations of the story also point to another legend of warring cooks trying to keep favour and flavour with the ruling Sultan. Hence today's mix stuffed with walnuts, dried fruits, and chocolate.
While remaining a favourite treat for the upper society of Turks, it soon caught on in the West when, in the 1800s, the sweet was transported back by a British traveller, and he coined the term Turkish Delight. Such was its popularity, celebrities, royalty and politicians also developed a love for the small, cube-like sweet.
Ingredients and Flavours
Prepared from corn starch and sugar, filled with dry fruits, honey or nuts, the flavoured, chewy sweet has a sticky texture, from the gun that binds the mix. Sold in cubes, and topped with a generous helping of icing, popular flavours are almond and rose. However, for those who develop cravings, flavours and tastes are unlimited from fruits of Turkey to other versions like pistachios, coconut and hazelnut.
Can Vegans Eat Turkish Delight?
The original recipe is vegan. However, some confectioners change the ingredients to make their own version, so it is worth checking. Added ingredients include Gelatine, and sometimes milk, even though they are not needed. If a confectioner has added them, that version is not suitable for vegans.
Does Turkish Delight Make You Fat?
Well, the sad news is the core ingredient is sugar, but much the same as everything else that is sweet, if you eat it in moderation as treats, there is no noticeable weight gain.
Recommend Book to Read
To know more, read Sherbet and Spice, the complete story of Turkish Sweets and Desserts by Mary Isin. Looking at baklava, helva, rose jam, violet sherbet, and delight for the sultans, she delves into their symbolic meanings, how they were invented and their role in Turkey's culture.
The Perfect Duo: Coffee and Delight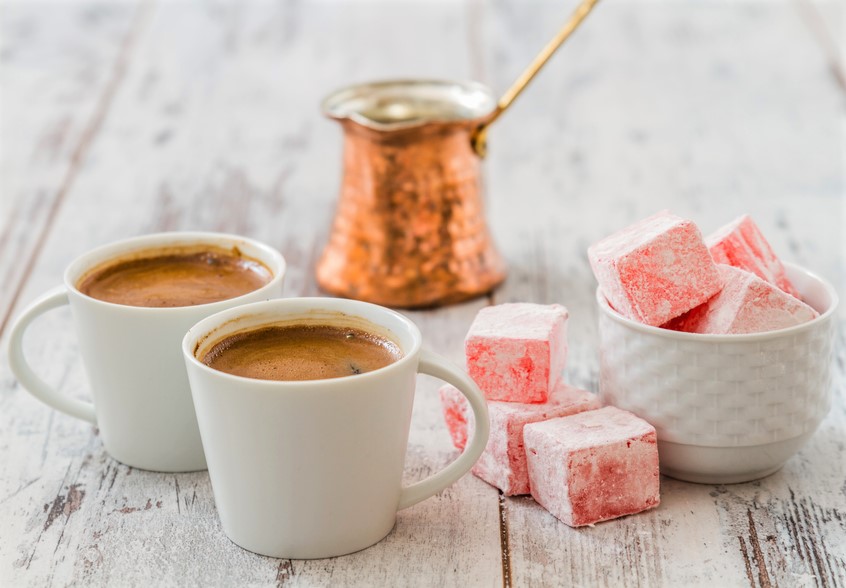 You can eat this sweet delight at any time. After all, it's not unusual for shop owners to have a box on the counter to share with customers throughout the day, but we like the saying when in Rome, do as the Romans do. Hence an ideal time to eat it is just after sipping a strong cup of Turkish coffee. The stark difference in taste from the raw, earthy coffee grinds to the sweet, chewy and lingering taste of Turkish delight are the perfect combination.
Where to Buy Turkish Delight?
While the Haci Bekir shops in Istanbul are the best place to buy Turkish delight, another region has garnered fame and attention from Turks for their excellent production of this delectable sweet. Safranbolu, entered the UNESCO World Heritage Site list because of its old Ottoman architecture, and is also famous for Safran, but factories and shops in the region make thousands of boxes every week to ship all over Turkey and the world.
Memorable Quotes
"It is dull, Son of Adam, to drink without eating," said the Queen. "What would you like best to eat?"

"Turkish Delight, please, your Majesty," said Edmund."
*C. S. Lewis – The Lion, the witch and the wardrobe. Chronicles of Narnia
"Turkish delight has had a bad reputation since that man C. S. Lewis – a positive genius in other ways – linked it forever with one of the terrifying creations in literature, the White Witch of Narnia, and that naughty, sticky, traitorous Edmund. However, with the sensuous pleasure imbued in its melting, gelatinous texture, and, when made in the proper way, perfumed with rose petals, flavoured with oils and dusted with sugar, it reclaims its power as a sweet as seductive as Arabian nights.,"
*Jenny Colgan: Author of Welcome to Rosie's Sweet Shop of Dreams
You might also like to read…
Turkish Food and Drink: From regional specialities to famous countrywide dishes, our articles on cuisine and beverages are the perfect introduction for anyone visiting Turkey for the first time.
Countrywide Tours of Turkey: From the east to the west, our tours of Turkey visit places like Istanbul, Cappadocia, Ephesus, Pamukkale and Bursa. As well as seeing some of the most beautiful landscapes in the world, you'll enjoy a journey of culture, traditions, food and hospitality.