If you are planning a countrywide trip of the best and most fun things to do in Turkey, the good news is a huge choice leaves no-one disappointed. From exploring ruins to white water rafting to Black sea mountain trekking, Turkey satisfies every holiday maker with its vast range of activities and highlights.
Turkey, the 37th largest country, has a mass of historical and natural landmarks, as well as cultural and family-friendly activities. The choice can be overwhelming, in which case, use our travel planning and consultant service. Otherwise, if you need ideas, look no further because we have listed our favourite activities, which also happen to be the most popular for good reasons.
The critical factor impacting the wide choice of things to do in Turkey is when you will visit. From November to April, most coastal resorts shut down as the tourism season finishes. Beach holidays in Turkey happen from May to October, so outside of these months, where should you go? If you don't plan to go skiing, stick to the big cities like Istanbul, and Antalya or visit the winter wonderland of Cappadocia.
10 Fun Things to Do in Turkey
1: Historical Attractions in Istanbul
Istanbul old city part, a UNESCO World Heritage site is a delightful collection of Ottoman and Byzantine landmarks. Highlights include the Blue Mosque, Hagia Sophia, former home of Ottoman rulers; Topkapi Palace and the Basilica Cistern. The Grand Bazaar of Istanbul is one of the largest shopping markets in the world. So don't forget to practice the age-old Turkish tradition of bargaining in many small shops selling everything from souvenirs to clothes to jewellery and household items. Find out more things to do in Istanbul here.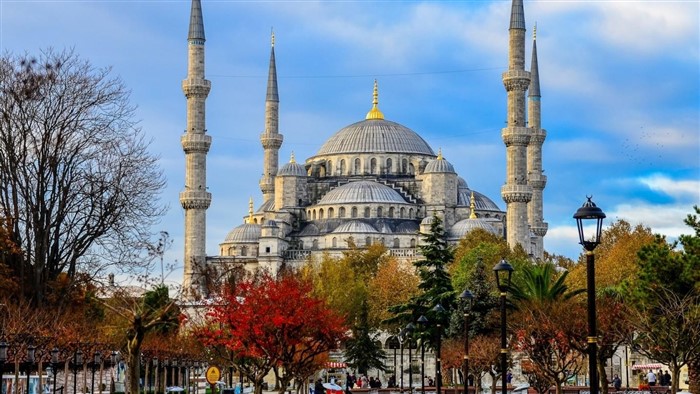 2: Visit Cappadocia
An early morning hot-air balloon trip is the highlight of Cappadocia. Large balloons float over rocky landscapes and fairy chimneys. Included are a champagne breakfast and a certificate of your time in the air. This trip is popular, so it is advisable to pre-book tickets. Underground cities are another attraction, and the best to see is Derinkuyu. Used in history, when the area was under invasion, social communities hid down there for up to three months at a time. They were fully functioning cities with separate households, storage rooms for food, animals and wheat. See our Cappadocia mini-tour here.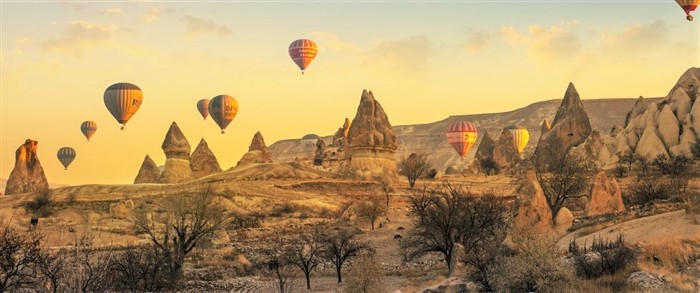 3:  Glorious Antalya
Antalya presents Mediterranean Turkey in all its glory and beauty. Think pristine beaches, a cosmopolitan lifestyle, many family attractions and historical landmarks. As the second most popular holiday destination, every year thousands of nationalities including Brits, Germans, Middle Eastern and Americans visit the main city centre and smaller coastal resorts called Alanya, Side, Kemer, Golfing Belek, rustic Cirali and sitting on the outskirts, quaint but delightful Kas. Read more about the top ten things to do in Antalya here.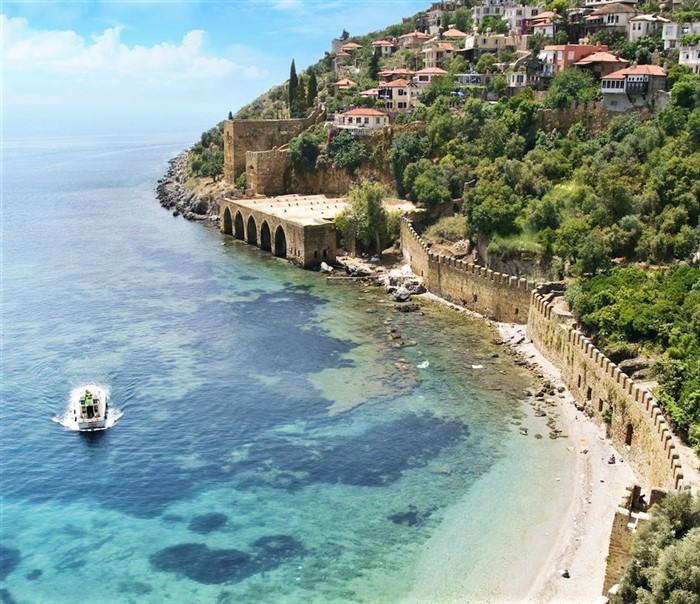 4: Ephesus Ancient City Ruins
Every day, thousands of people visit Ephesus Ancient City Ruins in Aegean Turkey, making it a top visited attraction. Landmarks worth exploring include the Celsius library and impressive amphitheatre, where the famous Biblical Artemis riots took place. Also open to the public are old Roman houses with magnificent mosaics and the public toilets! After Ephesus, take a mountain road detour to see the Virgin Mary's home run by the Catholic church. Believed to be the place of her assumption, many Catholic and Muslim pilgrims experience the serene and peaceful atmosphere every year. (Our Ephesus and Pamukkale Mini Tour.)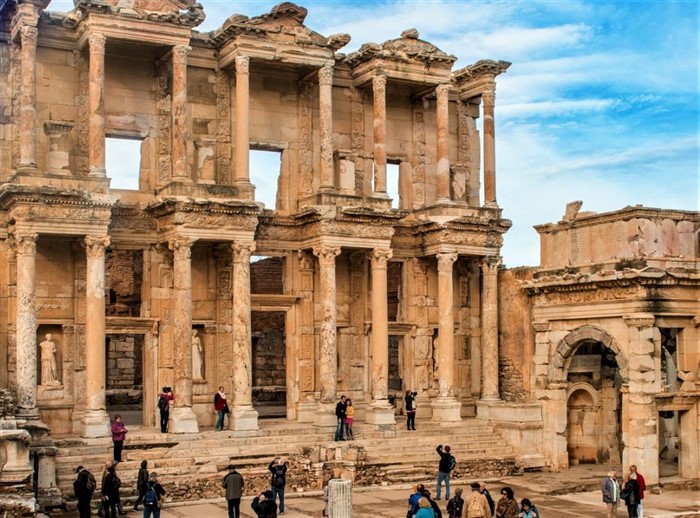 5: North East Black Sea Region
Due to reopen in August 2018, after extensive restoration work, Sumela monastery, an ancient building hanging onto the side of a cliff face is a must-see. A five hundred meters walk uphill leads into a courtyard with a fantastic view over the Macka mountain range. Next on the agenda should be Uzungol. The lake surrounded by dense forests prompts locals to be resourceful, so they build magnificent wooden homes and hotels by hand. Also see Ayder plateau, known for its hot spring spas. (Take a tour of North East Turkey with us.)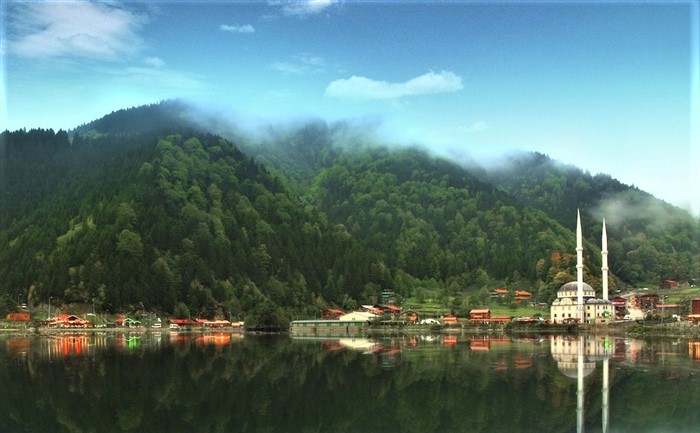 6: De-stress with a Turkish Bath
Indulge in cultural Turkey by entering a hot steam room for a Turkish bath scrub down. Although marketed as a tourist activity, Turkish baths are still a time honoured Turkish tradition, meant to destress and aid relaxation. Best done at the beginning of holidays as a prep up for the perfect tan, start by opening pores in a steam room and then lie down for a traditional olive oil soap scrub. Finish it off with an olive oil massage and a nice cup of apple tea!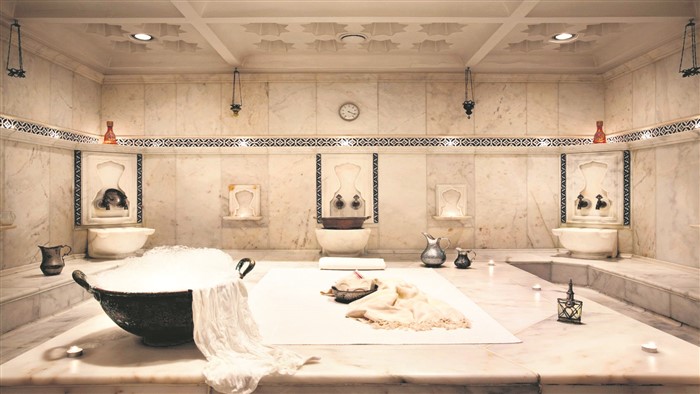 7: See Whirling Dervishes
A whirling dervish performance is memorizing and captivating at the same time. This ancient order, following beliefs from the great poet Rumi stems from Ottoman times. Konya in central Anatolian Turkey is the centre of their religion, also a sect of Islam, but if you can't get there, see their whirling dervish shows and museum in the Galata district of Istanbul.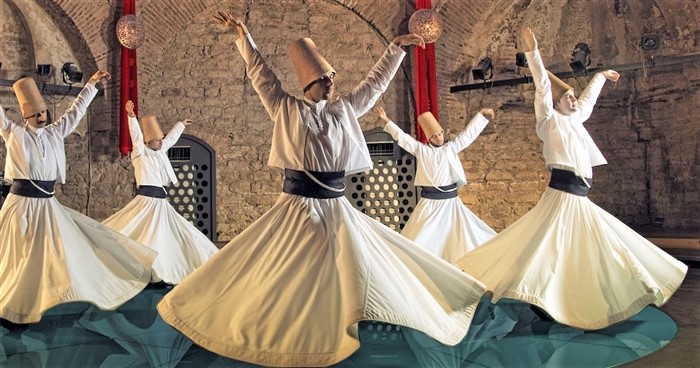 8: The Cotton Castle of Pamukkale
Pamukkale, another natural landmark called Cotton Castle has been used throughout history as a natural spa and wellness centre. Excessive amounts of calcium in the water are also responsible for forming the weird shaped pools tumbling down a hillside. Pamukkale and the surrounding Hierapolis city ancient ruins are a UNESCO World Heritage site and highly popular things to do in Turkey.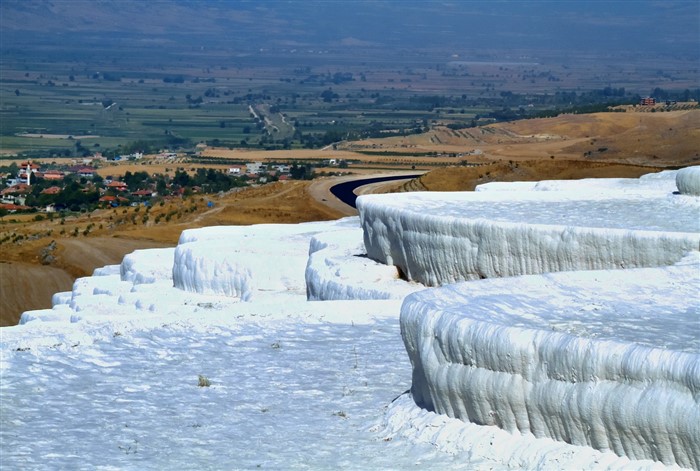 9: Tasty Turkish Food to Die For!
Every region of Turkey has cuisine specialities from the wet burger of Taksim square in Istanbul to intensely sweet baklava of Gaziantep. Including mezes, soups, salads, meat, vegan, vegetarian and dessert dishes, prep your taste buds for an exciting journey. Find out more about recommended dishes to try, in our Turkish food articles here.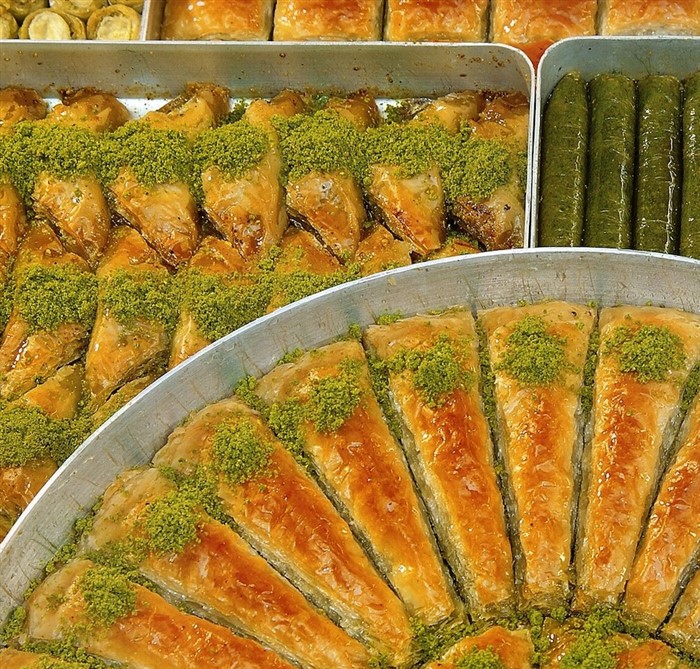 10: Turkish Gulet Cruise from Olympus to Fethiye
Gulet cruising, Turks preferred method of relaxing at sea is best done from places like Bodrum, Fethiye and Antalya, centres of the Turkish Riviera. A favourite activity is to take a 3 or 4-night gulet cruise on certain routes, called Blue Voyage cruises. Including coastal resorts, hidden coves, scenic islands and just sailing with the wind in your hair, the Olympus to Fethiye route of Mediterranean Turkey is the most popular.
For more ideas and suggestions of things to do in Turkey, see our wide range of Turkey tours and excursions