Grand Turkey Tour
Cruise the Turkish Riviera and explore highlighted attractions on the Aegean and Mediterranean coasts as well as the central Anatolian region, known as the cradle between East and West. Explore ancient ruins, and see the most amazing scenery, rarely featured in guidebooks about Turkey.

Guaranteed Departures

Small Group Tours (Usually 8 to 12)

Boutique Hotels

Flights Only (No Long Bus Trips)
Highlights
Cruise the Turkish Riviera and explore highlighted attractions on the Aegean and Mediterranean coasts as well as the central Anatolian region, known as the cradle between East and West. Explore ancient ruins, and see the most amazing scenery, rarely featured in guidebooks about Turkey.
Tour Itinerary
Days:

19

Starting Point:

Istanbul

Ending Point:

Istanbul
No Booking Fees

You can customize this trip with additional days! Slow the pace with rest days in locations of your choice, or add additional sightseeing days along the route.
Tour Map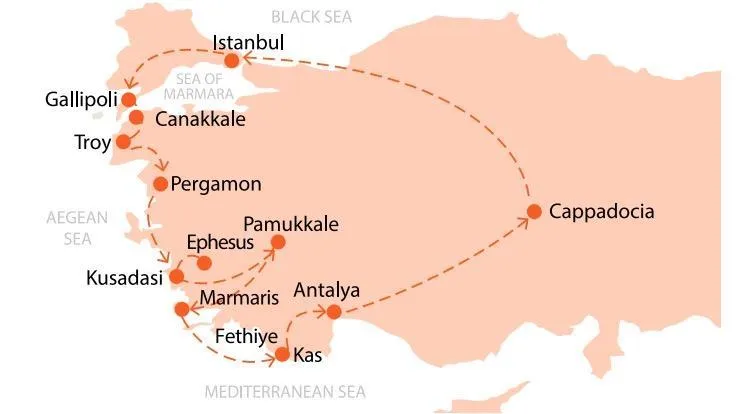 Tour Details
In Brief

This tour is for discerning travelers with some time. The tour hits the highlights, including 3 night Med cruise on wooden sailboat, a stay in the gorgeous town of Kas and plenty of time in Cappadocia. This is one of our own, tailored itineraries - so you get all the convenience of a small group tour.

Daily Guaranteed Departure! (Available between 26 April & 30 October). You can amend this itinerary as you wish.

Small Group Tour (8 to 12 with a maximum of 16). Note that we mainly use Mercedes Sprinter or similar tour buses with our tours in Turkey, we never use public buses.

Special Features

- High quality, boutique hotels
- Domestic flights to save time and avoid long bus trips
- Plenty of time in Cappadocia so you're not rushed
- This tour is also available on private basis

What's Included

- All accommodation as per itinerary
- Professional English speaking guide on day tours
- Full day guided tours
- Cappadocia Hot Air Balloon Flight (time and availability to be confirmed at the time of booking)
- All flight tickets mentioned in the itinerary
- All transportation & transfers
- All meals mentioned in the itinerary
- Whirling Dervish ceremony
- All museum and entrance fees
- Gulet cruise as per the itinerary
- Wifi available at all our hotels

What's Not Included

- International airfares & taxes
- Travel insurance
- Personal expenses
- Gulet cruise port fees (30 EUR pp)
- Optional gratuities to guide and driver
- Visa fee
Departure Date
No departures on Mondays. We hold the right the swap the days in your itinerary to suit the Gulet cruise mentioned in the itinerary.
Start Date

Finish Date

Day / Days / Every Day

Day / Days / Every Day:

Every Day
Price List
Start

Finish

Single

Double/Twin PP

Triple PP

Double/Twin PP:

6,713 AUD
Book Now / Enquiry
If you are traveling with children, please send us an enquiry through the below form for costing and further information.
Blogs
Gulet Cruises in Turkey
The Best Sailing Holiday You'll Ever Have
Historical ruins, beautiful beaches, sleepy fishing villages and world class marinas make gulet cruising in Turkey an experience no other country in the world can replicate. Cruising the Turkish Riviera is not a new phenomenon, but it never appealed to mainstream holiday markets until the last decade when the Internet shifted people's perception of travel.
Nostalgic Beginnings of Gulet Cruising in Turkey
Gulet cruises also called Blue Voyage routes began 70 years ago. The exiled "fisherman of Halicarnassus" Cevat Sakir Kabaagacli, arrived in Bodrum in 1925 to explore the Aegean Sea and surrounding coastline destinations.
He invited friends to join him, and they spent their time sponge diving, fishing, and wandering the Turkish Riviera. As a talented group of authors, word soon spread about their lazy days and explorations.
We wonder if he knew his lazy days would later become a popular aspect of holidaying in Turkey. From a three-day mini Blue Cruise to a two-week itinerary, experts with years of experience and passion for showing off the Aegean and Mediterranean coasts plan the adventure.
Holidays in Turkey: Sail the Turquoise Coast
A gulet boat is a Turkish wooden sailing vessel. As masters in building gulet boats, Turks used them as fishing vessels, but when tourists requested accommodation overnight so they could stay on board, they adapted the design and these days, they feature all modern cons of a luxury vessel.
Resorts like Bozburun on the Marmaris peninsula and many Bodrum peninsula villages have established strong reputations for boat building expertise and experience. A gulet boat varies in size and carries from eight to twenty passengers, each with private sleeping cabins. Everyone gathers on deck in the communal area for breakfast, lunch, and dinner if they choose not to dock into seaside resorts to visit restaurants.
Most equipped boats have scuba diving, fishing equipment and designated sunbathing areas if the holiday plan is to soak up Mediterranean sun rays. Traditional boats are the perfect sailing vessels, but in recent years, modifications turned vessels into motorised yachts. Either way, it is a thrilling experience.
Cruising Hubs in Turkey
The Turquoise coast stretches from the northern Aegean to the eastern Mediterranean. Winding its way from West to South, it comprises over fifty small bays and villages and many ancient ruins that add a twist to cruising the Aegean and the Mediterranean Sea. Passengers put together itineraries depending on historical sites or Turkish coastal resorts they want to see. They also follow established Blue Voyage routes. Out of all the coastal hubs, four emerged as major destinations.
Marmaris: As a pioneer of Turkey's tourism industry, international sailors have always favoured Marmaris. During summer, cruises depart from the harbour area to cruise around the coastline to visit hidden coves, off the track islands, and beautiful beaches.
Whether you sleep in your cabin or on deck, under the stars, wake up to a delicious breakfast. The Captain then starts sailing to the next destination, to dock anchor and serve lunch on board, or if the yacht docks into a coastal resort town, passengers enjoy free time to explore and eat in many restaurants. Depending on where you are, they run excursions to archaeological sites or you can take advantage of water sports like jet skis, swimming and snorkelling and para-gliding.
Read More