Treasures of Turkey Tour
A tour aimed at providing comfortable travel with private transfers, and quality hotels. The itinerary include visits to Turkey's main attractions including Gallipoli, the old part of Istanbul, and stunning Pamukkale, nicknamed white Cotton Castle and much more!

Guaranteed Departures

Small Group Tours (Usually 8 to 12)

Boutique Hotels

Flights Only (No Long Bus Trips)
Highlights
A tour aimed at providing comfortable travel with private transfers, and quality hotels. The itinerary include visits to Turkey's main attractions including Gallipoli, the old part of Istanbul, and stunning Pamukkale, nicknamed white Cotton Castle and much more!
Tour Itinerary
Days:

13

Starting Point:

Istanbul

Ending Point:

Istanbul
No Booking Fees

You can customize this trip with additional days! Slow the pace with rest days in locations of your choice, or add additional sightseeing days along the route.
Tour Map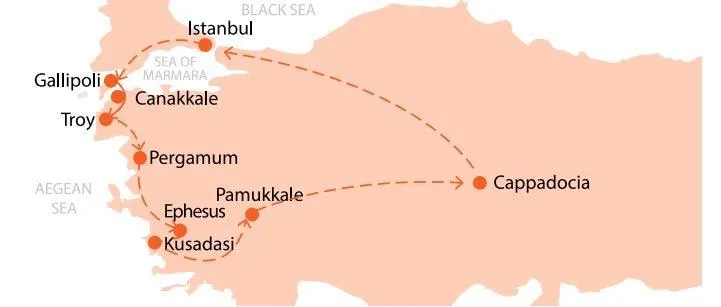 Tour Details
In Brief

Small Group Tour (8 to 12 with a maximum of 16). This is a high quality tour. It uses high quality, boutique hotels, private car transfers and the best guides. It includes a hot air balloon flight in Cappadocia. You won't be disappointed.

Special Features

- Two full day tours and a half day free in Cappadocia, so you're not rushed
- Includes 2 flights, so you gain a whole day and a half for additional sight seeing over the coach tours
- Can be extended with free days / add-ons
- This tour is also available on private basis.

What's Included

- All accommodation as per the itinerary
- Professional English speaking guide
- Full day tours mentioned in the itinerary
- Cappadocia Hot Air Balloon Flight (time and availability to be confirmed at the time of booking)
- All flight tickets mentioned in the itinerary
- All transportation & transfers
- Meals mentioned in the itinerary
- Whirling Dervish Ceremony
- All museum and entrance fees
- Small group tours
- All local taxes
- Wifi available at all our hotels
- No hidden costs!

What's Not Included

- International airfare & taxes
- Visits and services not mentioned in program
- Travel insurance
- Personal expenses
- Optional gratuities to the guide and driver
- Visa fee
Departure Date
Start Date

Finish Date

Day / Days / Every Day

Day / Days / Every Day:

Every Day

Day / Days / Every Day:

Every Day
Price List
Start

Finish

Single

Double/Twin PP

Triple PP

Double/Twin PP:

4,107 AUD

Double/Twin PP:

4,366 AUD
Book Now / Enquiry
If you are traveling with children, please send us an enquiry through the below form for costing and further information.
Blogs
How to Spend 5 days in Istanbul
5 days in Istanbul is ample time to see the best tourist attractions that make the metropolis, one of the top city break destinations in the world. Despite its enormous size and bustling population, Istanbul has welcoming vibes that leave visitors with lasting memories of their time there. Anyone visiting for 5 days should prepare for an intensely diverse city that wows and amazes at the same time.
Both the Byzantine and Ottoman empires ruled from the city, then known as Constantinople. So, as well as seeing the modern face of Istanbul, tourists will enjoy an exciting journey into the city's history that also had a dramatic effect on the rest of the world.
A wonderful way to start is by delving into the heart of the old city, known as the Sultan Ahmet district. Major landmarks are all situated close together, so one day is enough or two if you go at a slower pace. Starting at Topkapi Palace, the first home of the Ottoman sultans, follow it up by seeing, the Istanbul Archaeology Museum close by, which has an esteemed reputation for its extensive collection of ancient artefacts.
Just a ten-minute walk away, the Hagia Sophia, a former church, mosque and now busy museum was once the largest domed building in the world. Across the square, the 17th-century Blue Mosque is open to tourists outside of prayer time and is a marvellous introduction to Islam. Having seen the main sights, other delights to visit close by include the Hippodrome, social centre of the Byzantine empire and the Basilica Cistern, the former underground water source to the Imperial Ottoman Palace.
The next day, a good place to start is the Grand Bazaar, one of the largest markets in the world and perfect for souvenir and Turkish carpet shopping. Head towards the Eminonu district, and passing through the Egyptian Spice Market, tourists will arrive at Galata Bridge.
Stop for one of the famous street food fish sandwiches before heading across and walking up to Galata Tower, that has a fantastic panoramic view of the city's landscape. Tickets are also on sale here for Turkish night shows that include dinner and entertainment, and it is a fun, light-hearted introduction to Turkish culture.
Wake up the next morning to head further afield, with a boat trip of the Bosphorus, a significant stretch of water both in history and modern day because of its strategic location. In history, the banks were home to rich Ottomans who built their Yali houses there. These days, they are multi-million-pound mansions that can be seen from the boat decks.
After lunch, spend the afternoon at Dolmabahce, the last home of the Ottoman sultans before their empire was disbanded in the early 20th century. The extravagant chandeliers and gold leaf ceilings, combined with architecture trends of that time easily outshine royal palaces in other countries.
If three days of sightseeing has left you less energetic, a traditional Turkish bath and scrub down is the perfect way to recharge your batteries on day four. Alternatively, sitting in the tea shops of Camlica Hill with its fantastic view over the Bosphorus and Golden Horn is perfect to be at one with Mother Nature in Turkey's largest city.
Otherwise, touring Istiklal Avenue and the back streets is an introduction to the new part of the city. Landmarks include the Anthony of Saint Padua church, the Galata Whirling Dervish Museum, Flower Passage and French Street.
If you spent two days wandering the Sultan Ahmet district, by now, your five-day tour of Istanbul has finished, however, if you still have time to squeeze in more delights, the Prince's Islands are a must visit.
In history, shamed royals were exiled there but these days, Buyukada, the largest of them all is home to magnificent Ottoman mansions lining spacious avenues. Transport is not allowed on the island, so the only way to get about is on foot or via a horse and carriage, but also take the time to sit in the seaside restaurants and take in your last views of Istanbul.
Read More